Discussion Starter
·
#1
·
Hi Everyone,
Its been a long time since I've put up a trip report, but I had a ripper of a trip a few weeks ago that I just have to share, if you like to paddle then this is a trip you must add to your bucket list, it had been on mine since I brought my kayak and it was definitely worth it, I will be back to do it again.
Hitchinbrook Island is about 2.5 hours drive south of Cairns and sits just off the coast separated by a croc filled channel between Cardwell and Lucinda, because of this our trip took us up along the 45km seaward side of the island starting at Lucinda, and from there made our way north with the trade winds to Cardwell. The island is really something else, it reminds me of Jurassic Park with its large mysterious, craggy granite peaks shroud in cloud, and is a huge national park with a limit to how many people can be on the island at any one time.
We planned to do the 85km trip in 4 days, and set off from Lucinda about midday after driving down from Cairns that morning.
Our team of six packed and ready: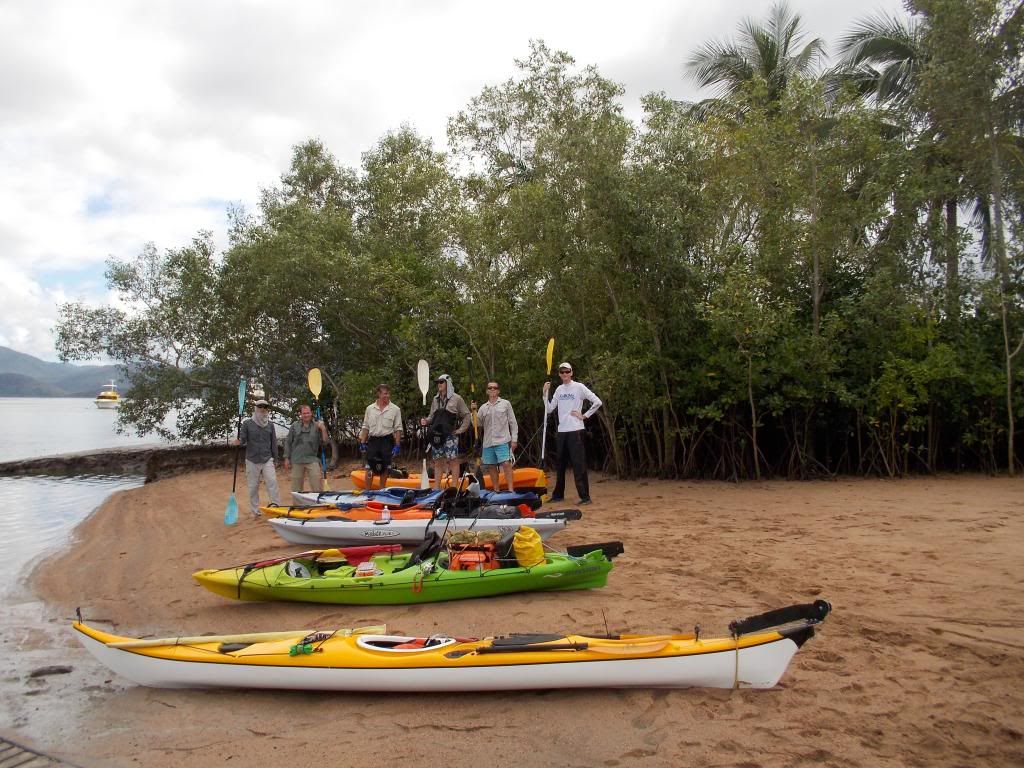 Our destination for day 1 was Zoe Bay, about half way up the island and around 20km paddle, it was tough going against the unexpected 15kt NE'ly especially after rounding the islands eastern most point and copping the large swell coming in from the open ocean. That slowed me down quite a lot, but I managed to pull into camp with a few hours light left to set up.
Much of the island is a green zone so there are only a few chances to get a line out, and today was one of them, I managed a small spanish mack that I set back.
Mt Stralock and Diamantina at the south end of the island (3200ft)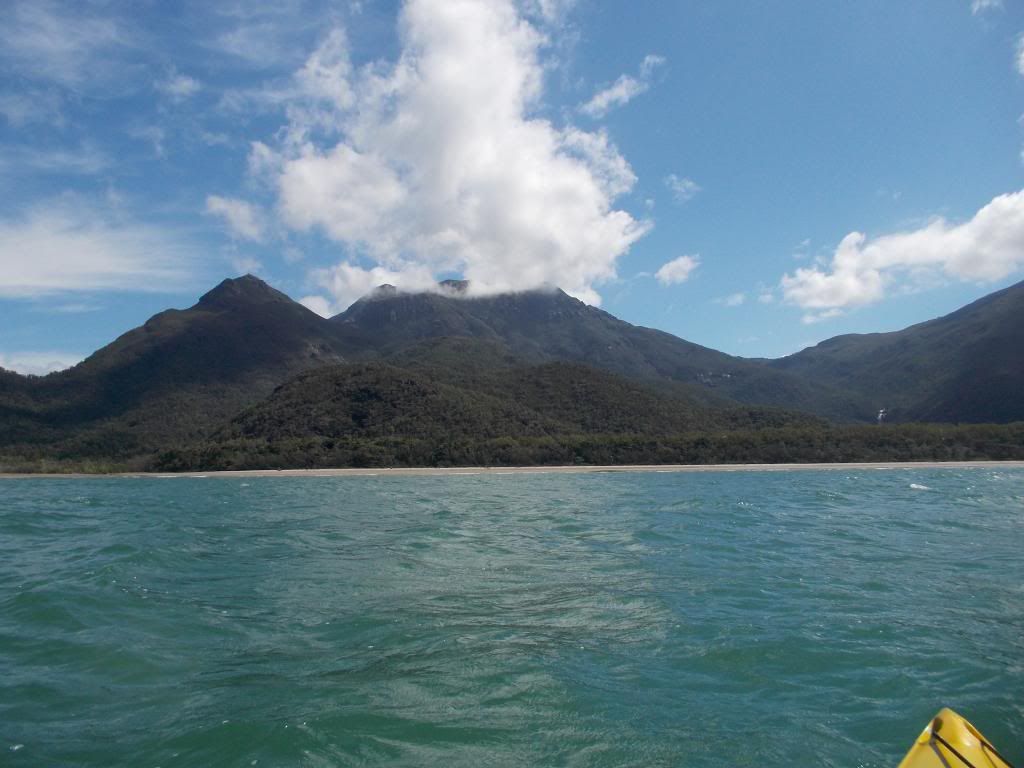 The other capture for day 1, a good size ribbon fish on a handline: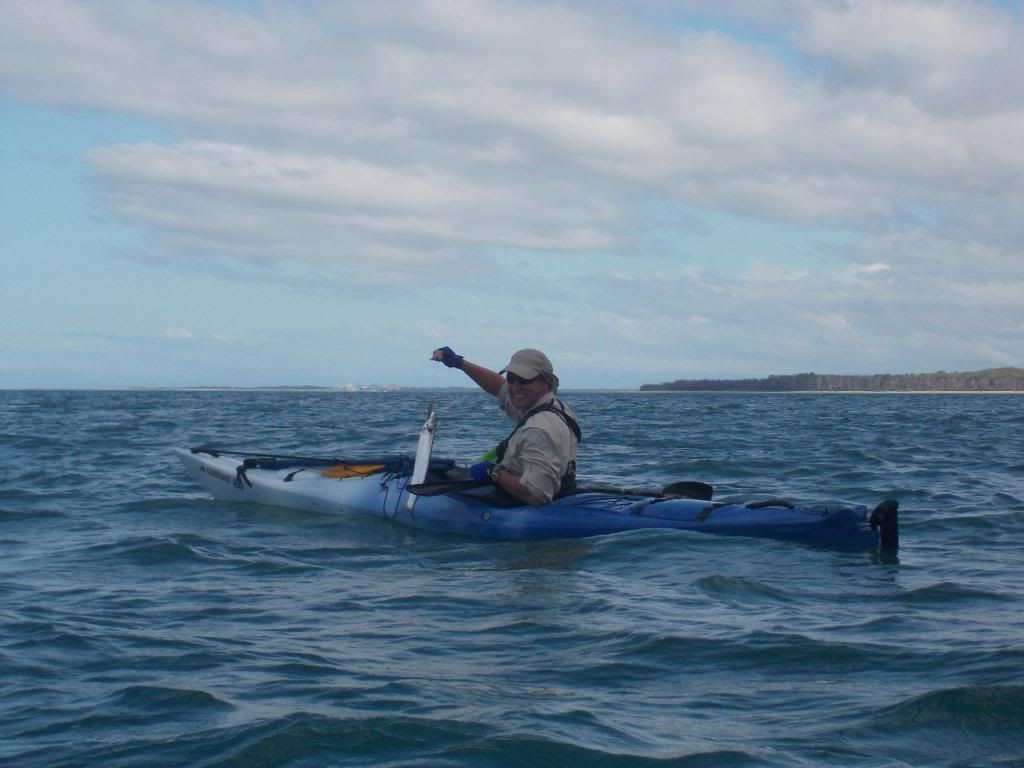 Mulligan Bay: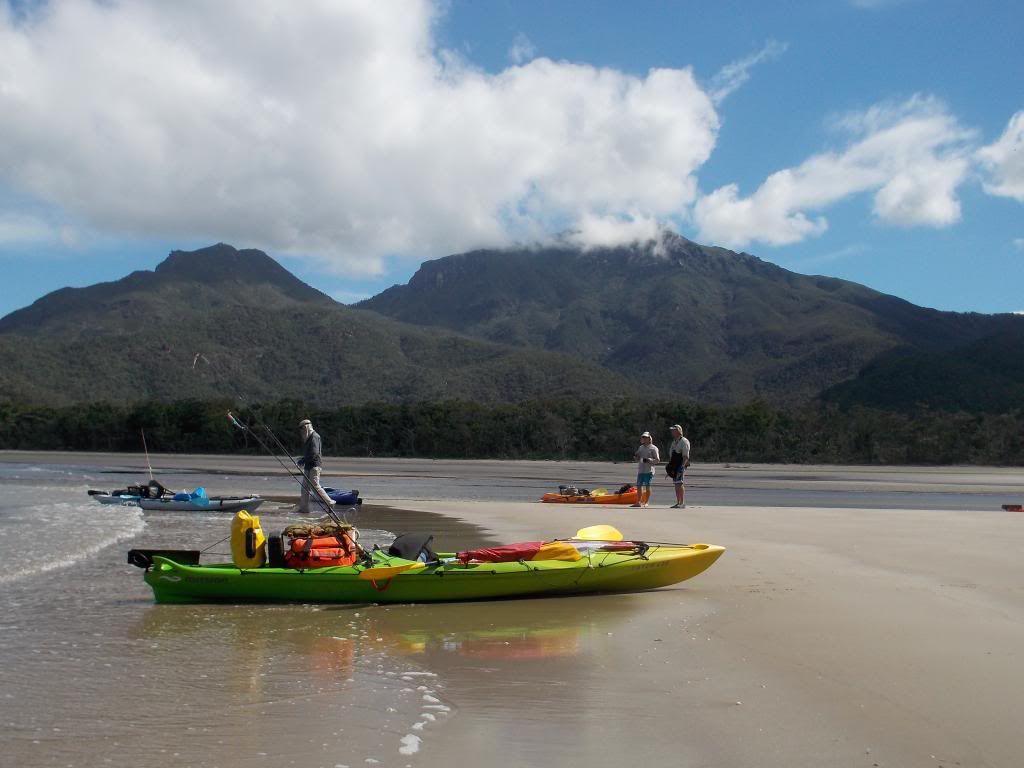 Rocky coastline: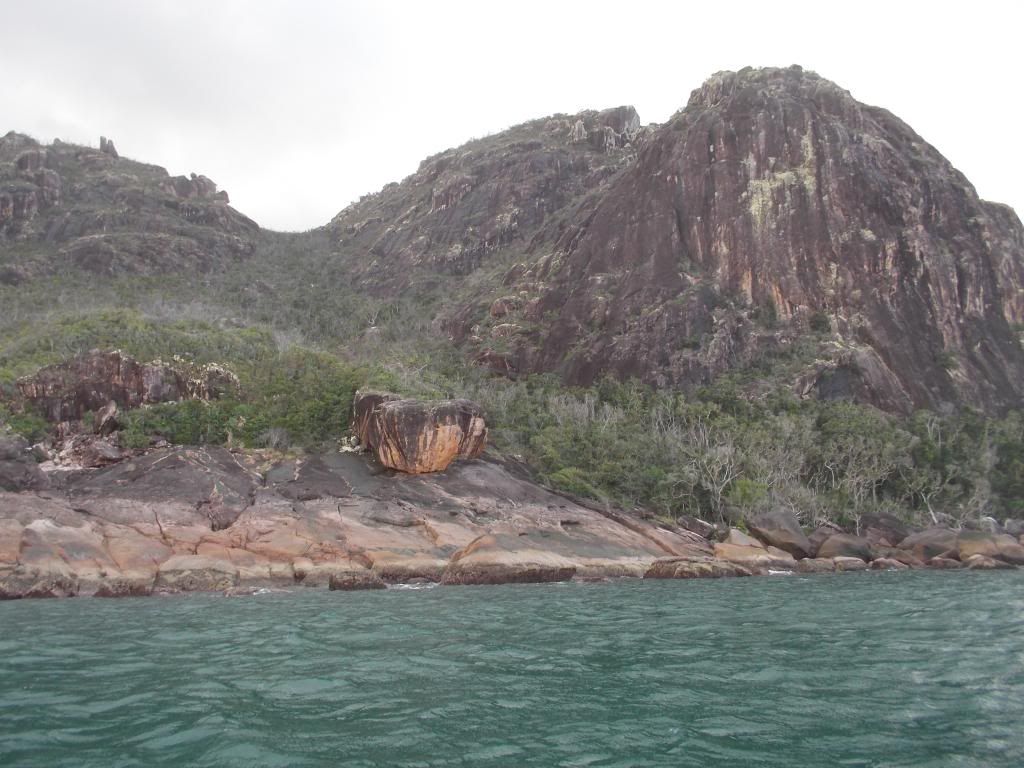 Approaching the eastern point: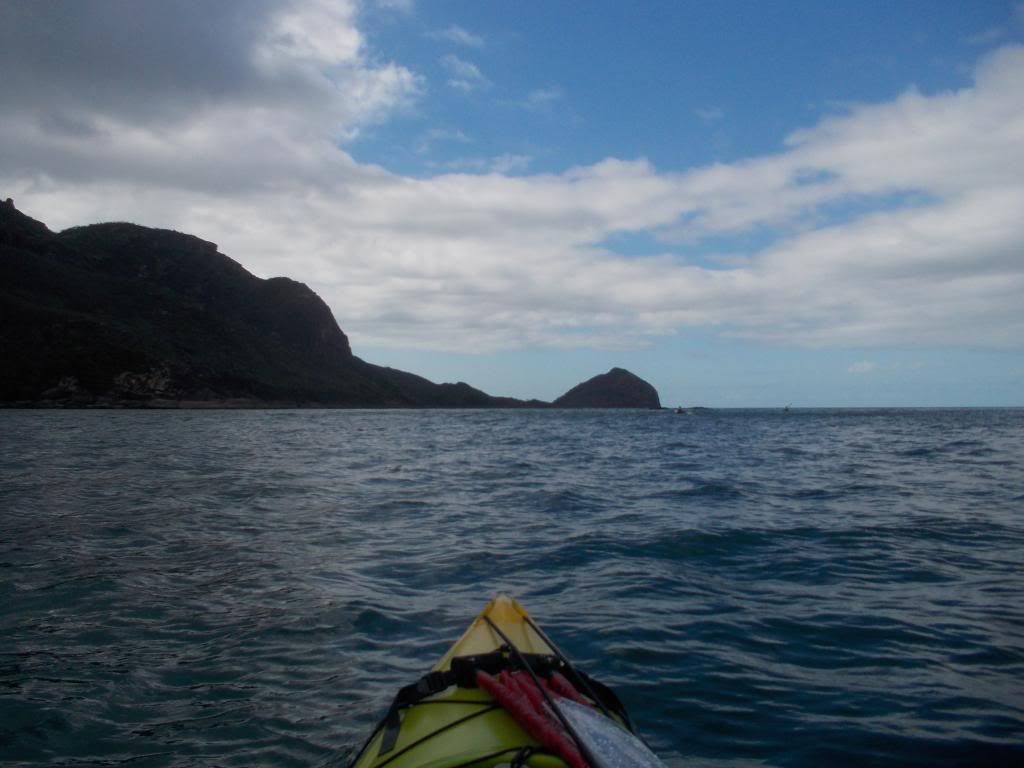 Zoe Bay: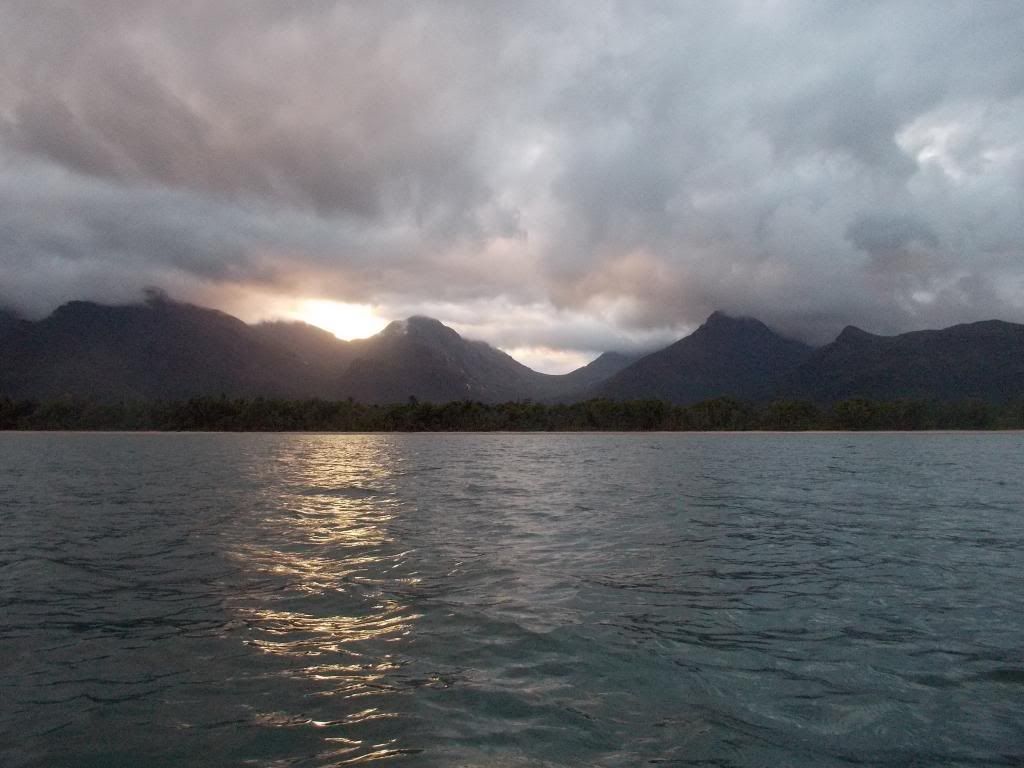 Campsite:
Day 2's plan was from Zoe Bay to Sunset Beach at the top of Hitchinbrook, this trip lead us past Mt Bowen, the islands largest peak at 3,678ft, an impressive site to see, especially mirrored on the glassy calm water, magnificent paddling conditions.
A cloud shroud Mt Bowen: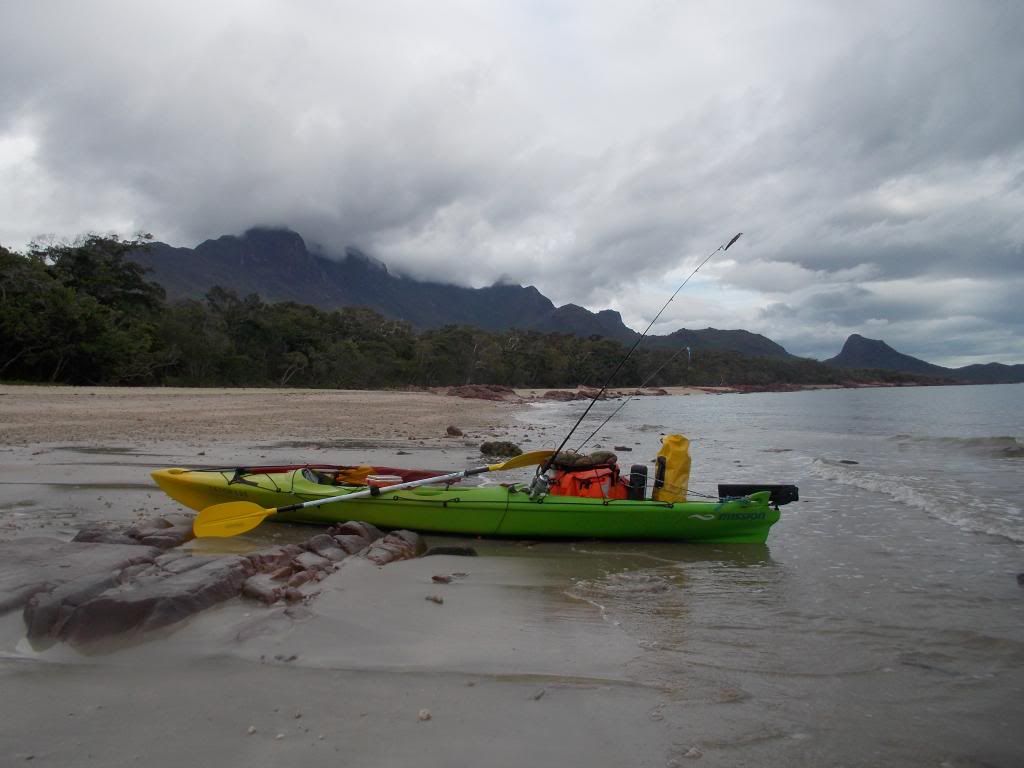 Small Lagoon at the base of the mountain: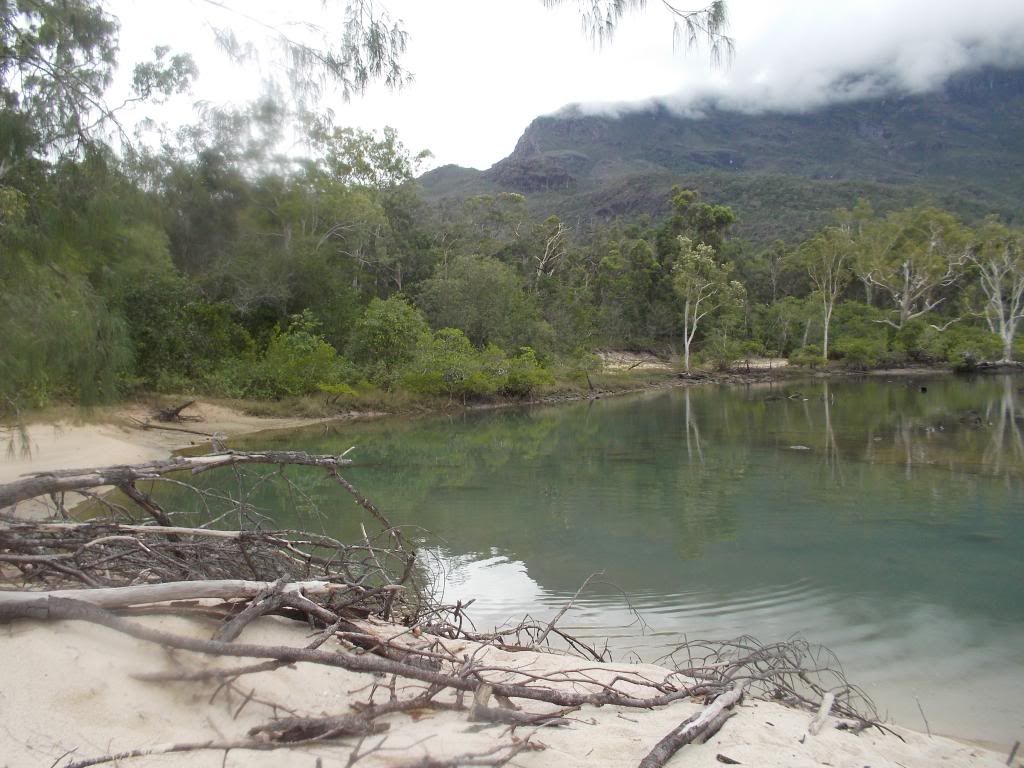 From Mt Bowen we continued further north to Nina Peak, also impressive, and pulled up to Blacksand Beach for lunch, then we continued on under sail to Cape Sandwich and to camp just around on the other side.
Blacksand Beach:
Sailing North to Cape Sandwich:
Sunset Beach Camp, we saw a Dugong frolicking in the water later that afternoon: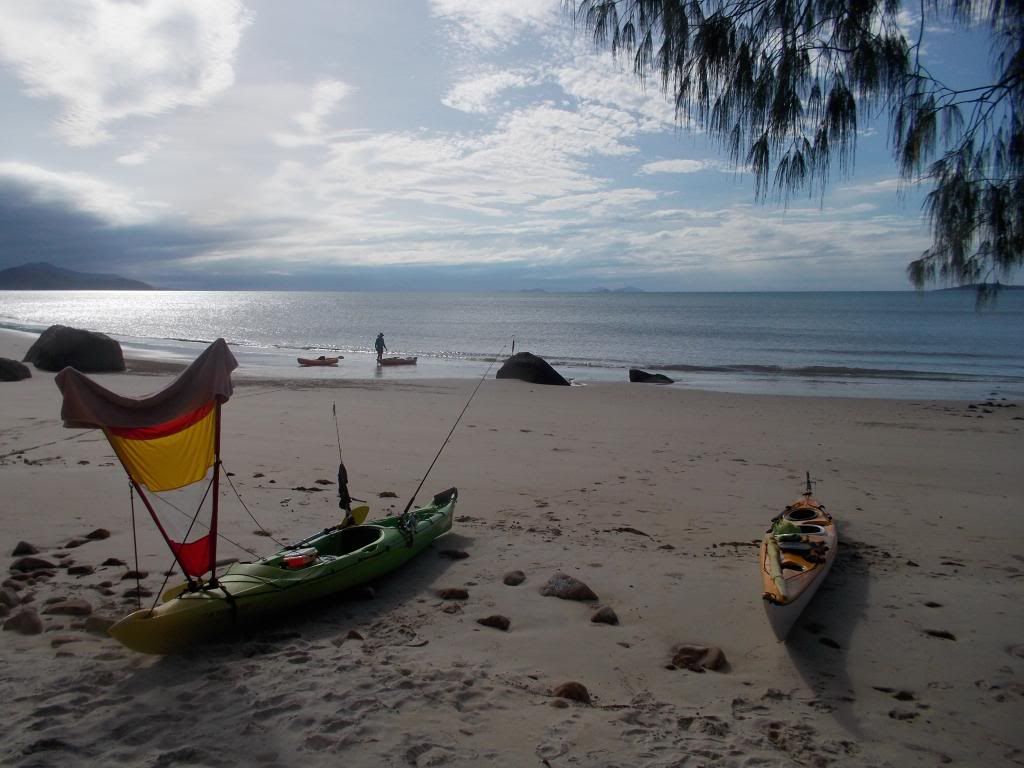 A chance to top up on water from a fresh stream: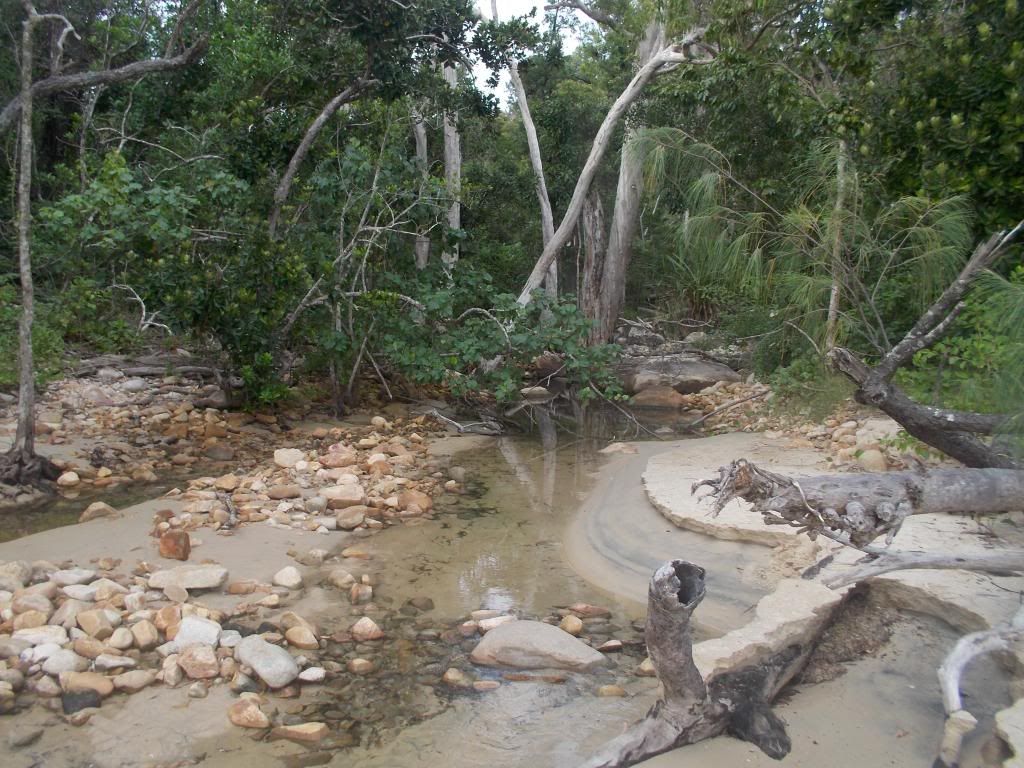 Day 3 our destination was Goold Island, just north of Hitchinbrook, we set off through amazing blue water and went by some incredible beaches. At Cape Richards, our last time setting foot on Hitchinbrook, there is an amazing bay that we pulled into, interestingly it is also the site of the old lodge, abandoned after it was damaged by Cyclone Yasi 2 years ago. Its a shame to see it in the state it is especially in the prime location its located on, vandals have unfortunately made it a lot more worse for wear.
Great paddling conditions: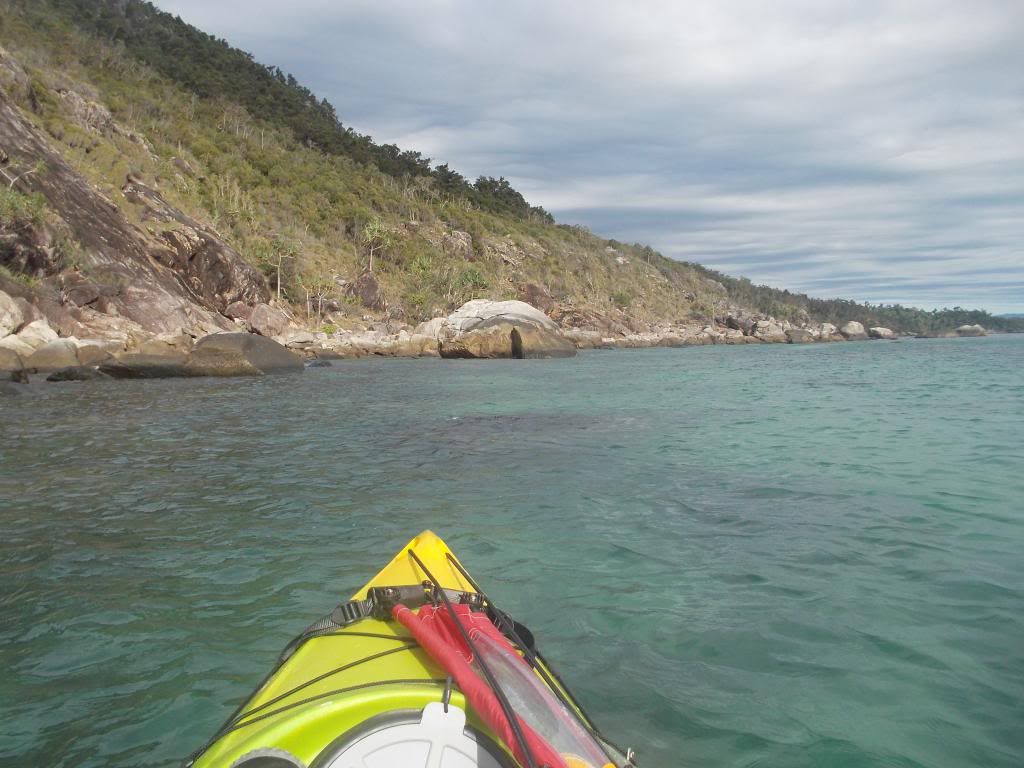 The lodge lobby: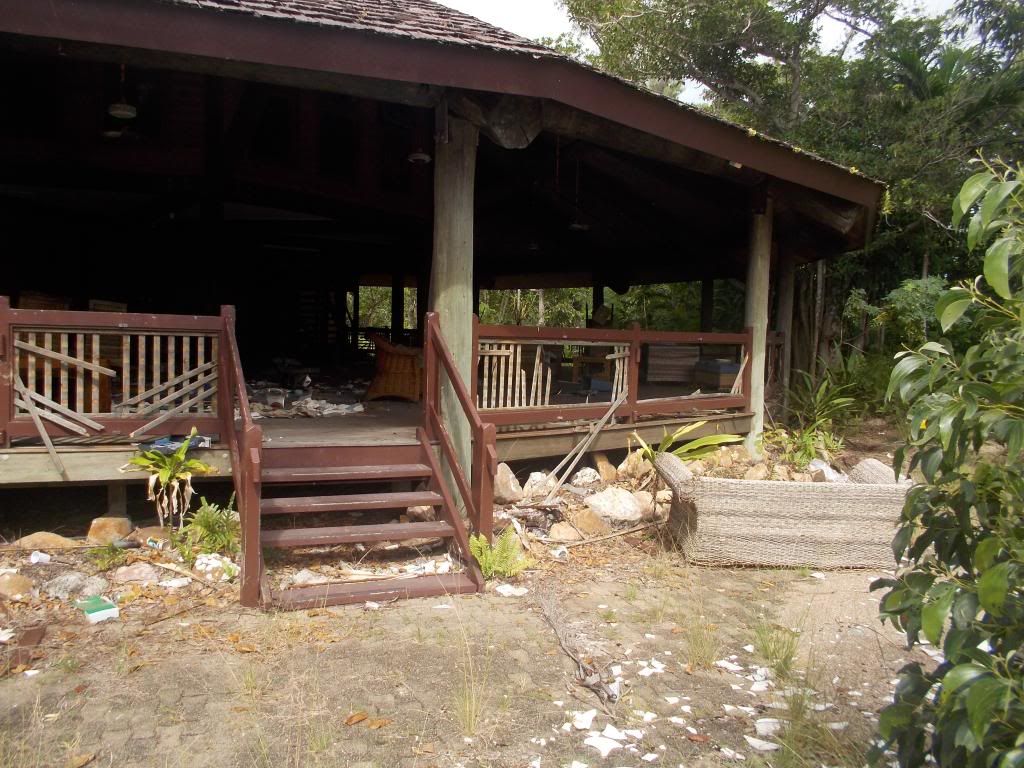 Lobby look out and the deck/pool area: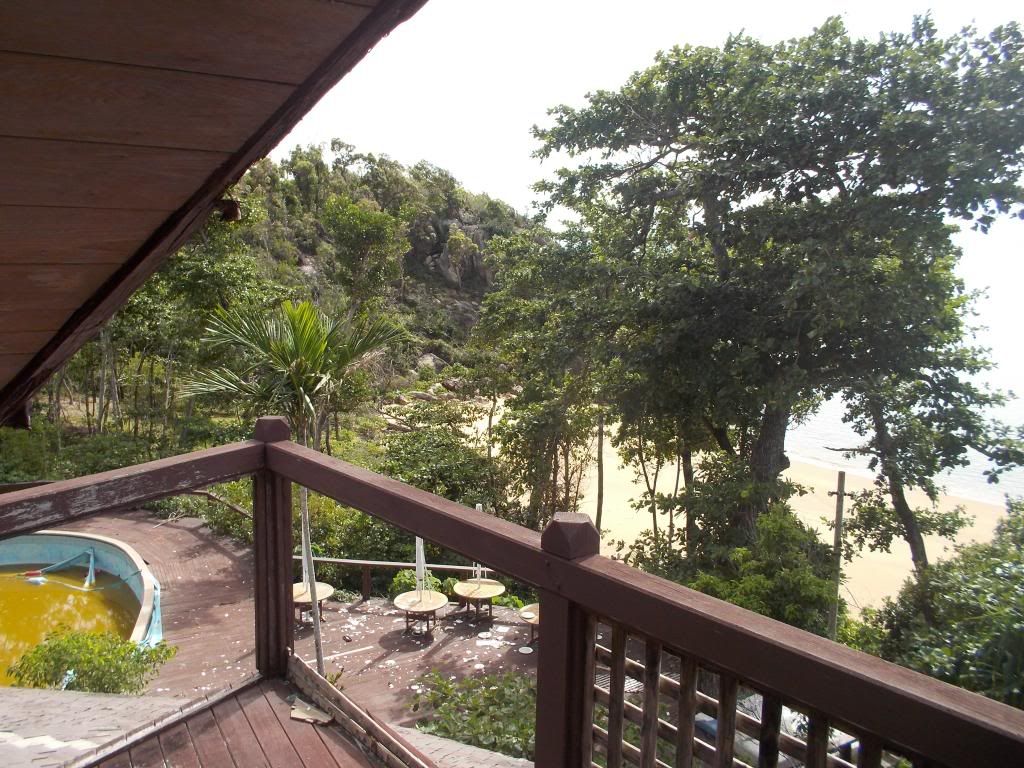 View from a lodge living room:
Heading back to the yaks for the last leg to Goold, what a spot!: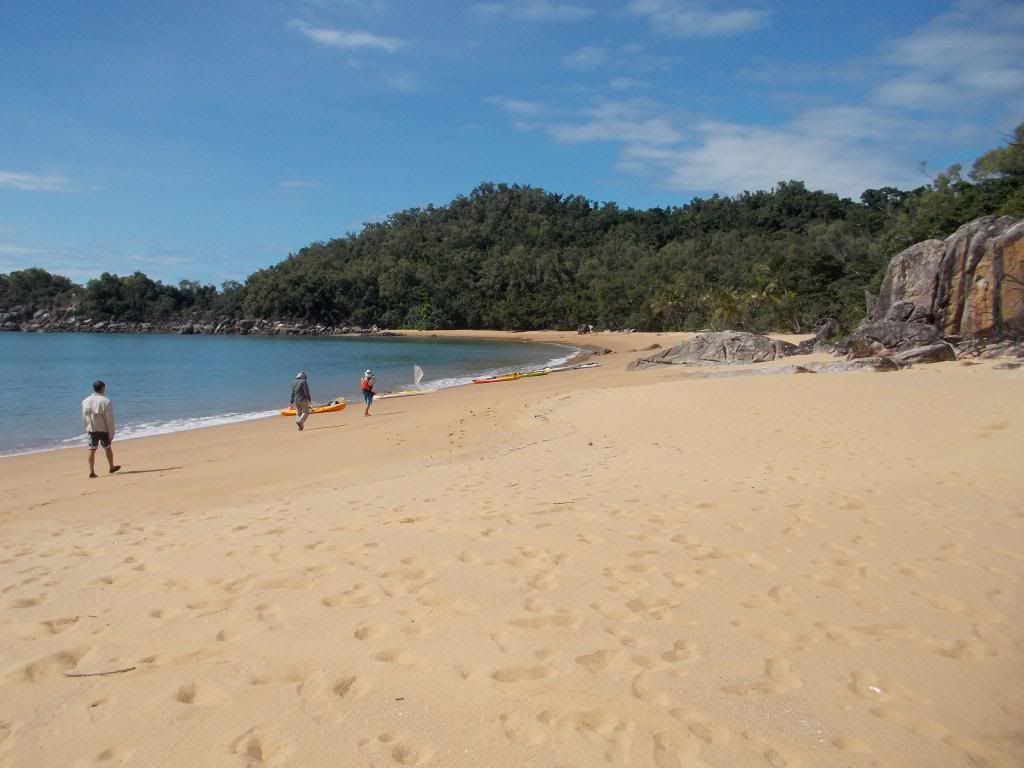 After a paddle again against some SW'lys to Goold Is. we pulled up to find some welcome facilities after having nothing the past few days, a BBQ, sheltered tables, rainwater tank and a long drop, fancy!
Perfect timing... low tide at Goold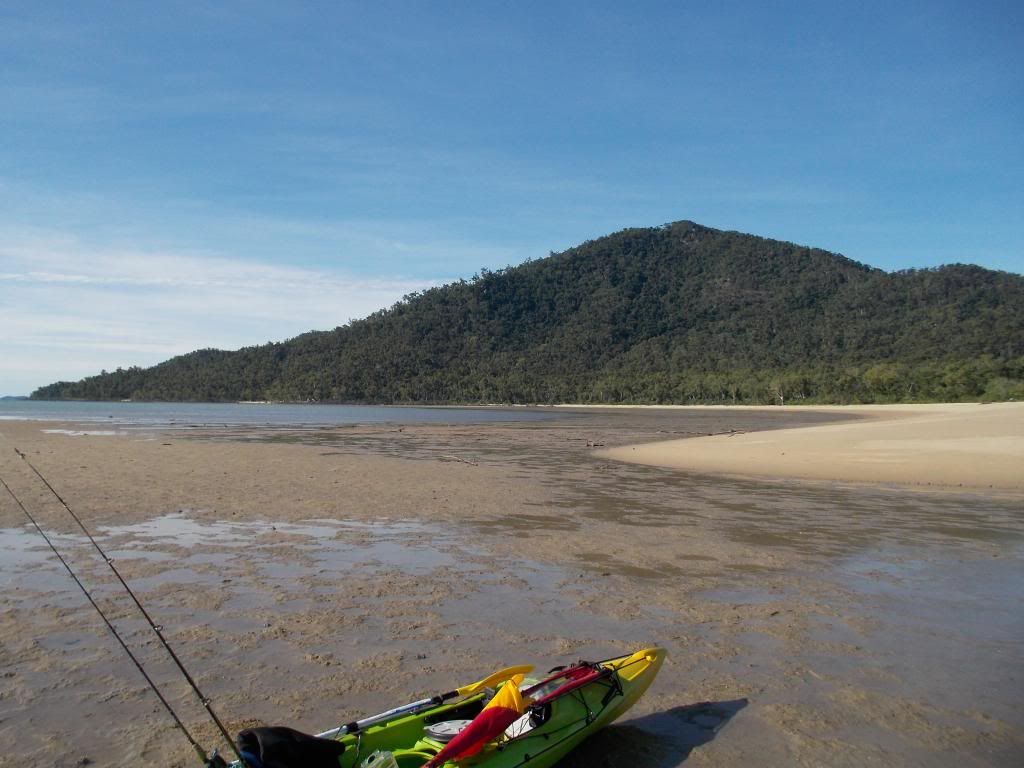 Sunset with Mission Beach and Dunk Island in the background: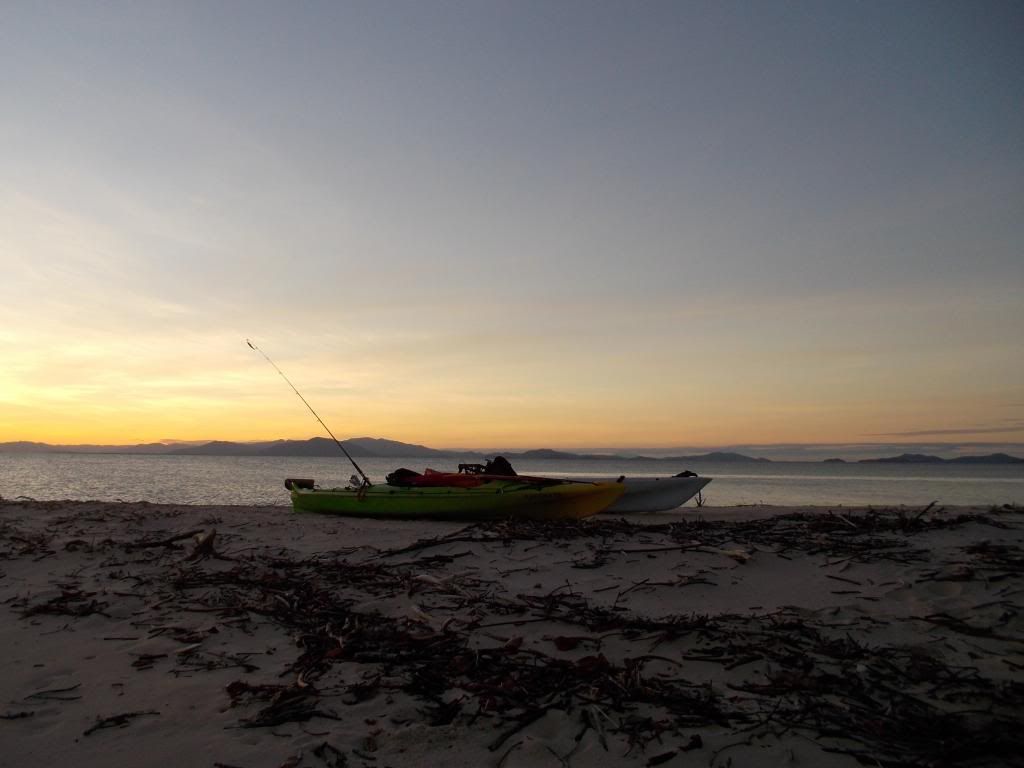 The next morning we found the Sw'lys had strengthened and it was going to make the trip to Cardwell a long slog, what I also didn't count on was the large tide we had running out of the Hitchinbrook Channel, which ended up making the 18km trip home take just under 6 hours!
Ready to set off to Cardwell, looks deceptively calm on the lee side of the island!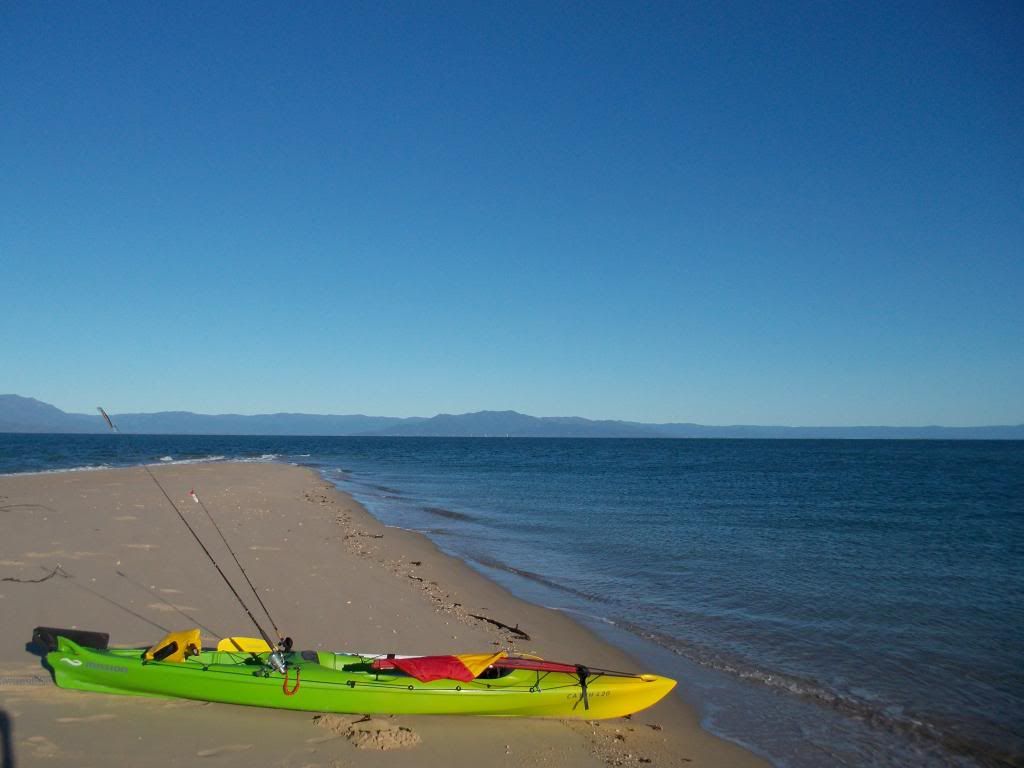 Made it, Goold on the left, Hitchinbrook right, trip of a life time: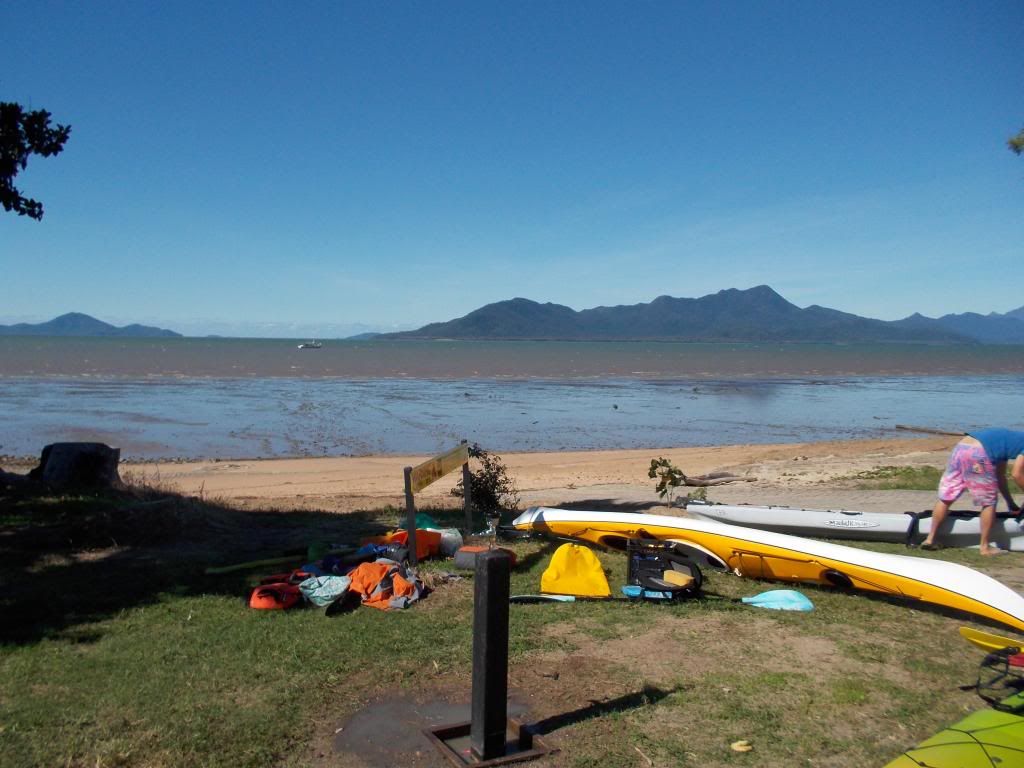 After packing up and loading the cars, we went for a well deserved beer at the pub, where we worked out we paddled about +25 hours on the trip, and felt every bit of it!
I plan to go back and do this trip again and hopefully next time attempt some of the climbs and explore more of the island and its fishing capabilities.
Thanks for reading.