Discussion Starter
·
#1
·
Hi guys,
I put in at lenthalls today - lazy start 1030am, & had the place pretty much to myself. Purpose was mainly to test my transducer install. Works a treat now, thanks guys.
off I went, trolling a SX 60 & a juro pygmie. persevered for 31/2 hours for nada - zip WTF :shock: My beautiful SX not working?
Bugger this, i was getting up into some skinny water and changed down to a SX 40 colour 301 (God I love that one) and a attack jobbie in reddy/orange colour. 100 metres later - off went the SX and a couple of minutes and a few blistering runs later a 41sm bass to boat - beauty - tea :twisted:
continued on for one little bloke about 25cm on the attack - tried the bubble pop for a while up in the backwaters for no joy. time to go home.
As I was paddling back, I got passed by a couple of big dollar bass boats doing, I reckon a good 30 knots. lanthalls Dam has a posted maximum speed of four knots throughout and a maximum allowable horspower of 6hp and for good reason. There is a lot of just submerged timber throughout the system and is sudden death to boats going fast. All this is very well signed at the put in.
Anyway, as I rounded the last corner, i looked at theput in and saw camps and big dollar rigs everywhere :shock: seems there is a major bass tournament there this weekend. the are calling it a basstastic. anybody heard of it?
some piccies
My bass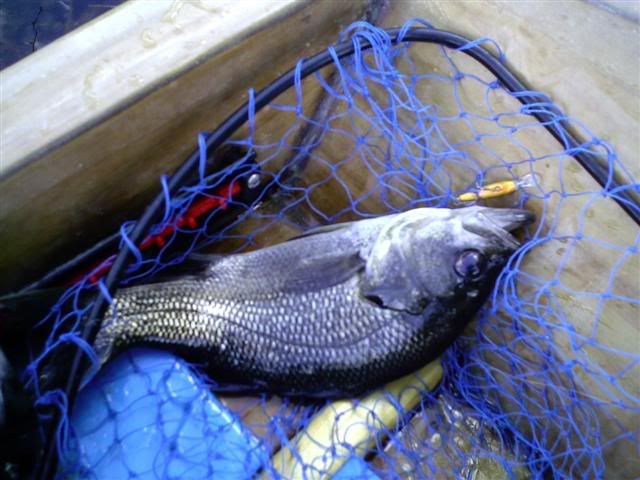 Look fishy?
lenthall's Put In