Discussion Starter
·
#1
·
In our France holiday, today was the day that Mary my wife, went off to Paris, by TGV, and I stayed behind with kayak fisherman Alain and his wife, Claude who live near La Rochelle, at the north east corner of the Bay of Biscay. This arrangement was made many months ago and our plan is that I will stay here for about a week, fishing, mainly, and meet Mary in Paris on 21June before we head homeward.
Alain and I saw Mary off on the train about 09:30 and by 10:15 or so Alain and I were standing on a beach ready to launch our yaks. For me this was the first kayak fishing expedition outside of Australia, and for Alain it was the first time he'd fished with an Australian.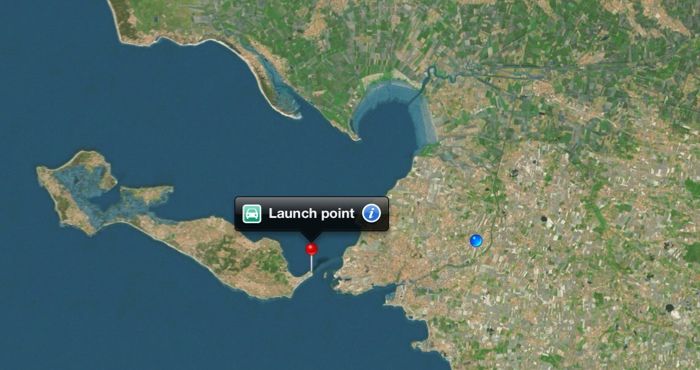 Launch point, zoomed out and zoomed in
Alain and the two yaks. He's a pedaller. He loaned me his spare yak. an Ocean Kayak boat designed around an electric motor, but I was equipped with paddle only. What a nice guy! And a super keen and competent fisho, too.
Anyway, the word was out that the meager, a close relative of our mulloway (jewfish) were active around the bridge pylons. In fact, Alain had nailed a PB specimen two days ago (I saw it). Soft plastics with very heavy jighead in 15m or so of water (running tides) were the bait of choice for everyone that I came across. Initially we were the only two yakkers out there, but one other turned up later. A variety of power boats, all with fishos aboard, was visible from the launch point.
Having seen no action at our first hotspot, Alain and I headed for another bridge spot where I drew the first actual hookup, a cuttlefish, which managed to free itself from the hook while we were discussing in a mixture of English and French, whether to keep it.
We worked this spot over pretty well and Alain actually hooked and almost boated a meager but it spat the hook at side of the yak.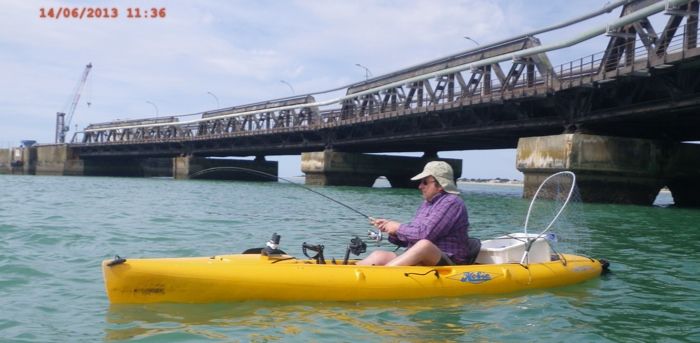 Alain playing his first hooked fish which managed to escape.
By the time we made our way back to the main bridge pylons, we'd put in several hours for no fish in the yaks, although others had told us of captures earlier. Anyway, back at the main bridge, near dead low tide, current still running north to south we continued to work the pylons, gradually getting closer and closer to our launch point. Still no fish in the yaks.
Then we saw a couple of bent rods and more, so joined the mob who'd found the fish and the fun began, at last. In short order we got two fish each, quite good sized meager, ideal for eating at this size, I'm told. Some pics: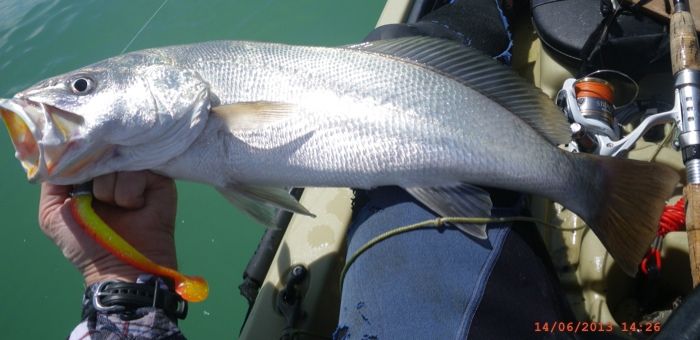 My first ever French fish, a meager.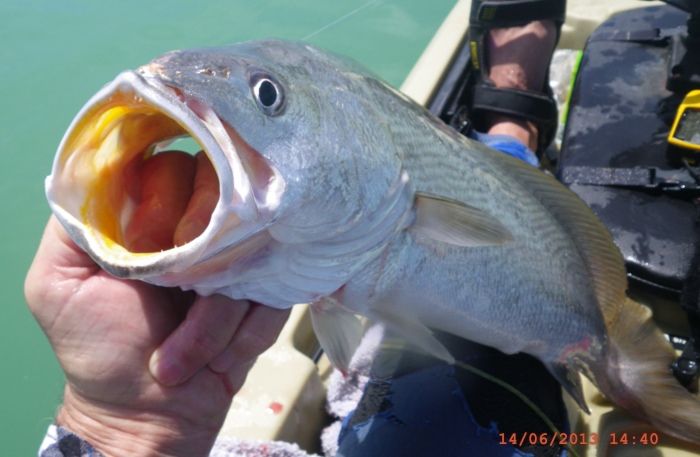 My second, slightly larger. Note the yellow tinge to the mouth interior.

Alain, acknowledging Australia 2, France nil.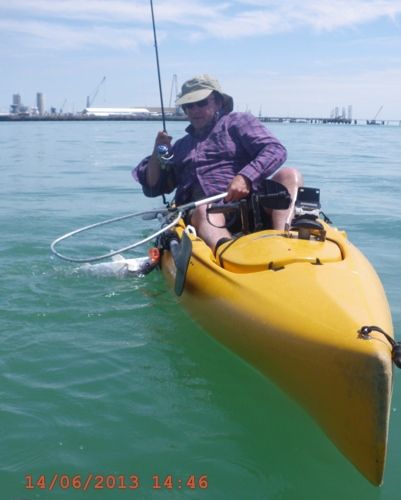 Then he hooks up and nets one.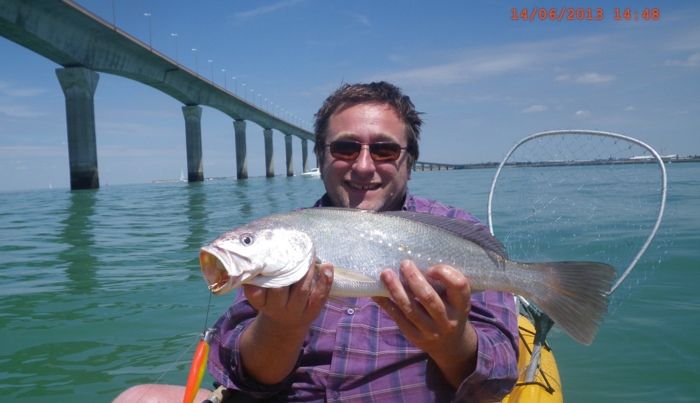 Alain, happy to be on the board.
So we finished up with two each in what turned out to be a beautiful day on the water.
Alain reckons we're going to hit them again tomorrow…
Thanks for reading AKFFers; tight lines