Discussion Starter
·
#1
·
I posted this in ausfish a while ago, but thought some of you blokes wouldnt have seen it, so here goes.
Went down to deep water bend on the rapidly dropping tide at 5.30am yesterday and had a bash at the SPs, not a touch for the first 3 hours and was getting rather disheartened, even rang my mate in Kyogle to bitch about it, as soon as I got off the phone I hooked something big, was very worried about the little rod, but had the drag set to perfection. Had a few long runs and took me about 20 mins to get the sucker near the shore, praying the whole time my knots would hold up. They did, and getting it to the bank I was so excited, thinking, I just wanna see ya before you bust me off, and then shattered, it was a big ray. held the spool and let him take the hook. Though, oh well, that was fun, what's next. crap, had forgotten to pack the leader line in my vest. no problems, got some fly leaders, just cut one down and bob's ya aunty, was back in action. few casts later and 30m down the beach, bang, off went the drag again and this time I could feel a distinct shake of the head, wasnt another ray, very happy, till i see a fin come out of the water, bloody fork tail, again, oh well, what's next, yep, another forky. I wasnt giving up tho and kept moving, got about as far out along the bank as I wanted to go, probly 1Km or so and camped there for a bit, lost a few tails to something, probly the little grunter that were following me in. then splash, woohoo, a flattie leapt from the water, I thought he looked a bit small, but wow, now I was stoked, lunch on the way. Got him in and measured him, 45cms, even happier!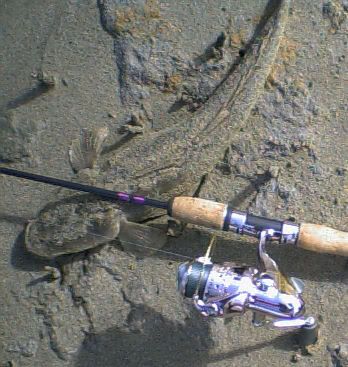 killed and bled him and put him on ice, then filleted him when I got home, the rest goes to the compost.
OK, now the question is, how to cook the fillets. I thought maybe beer batter, but have had enough batter lately, another story. so out came the al foil, some crushed garlic cloves, bit of butter and some lime, Ginger and chilli sauce.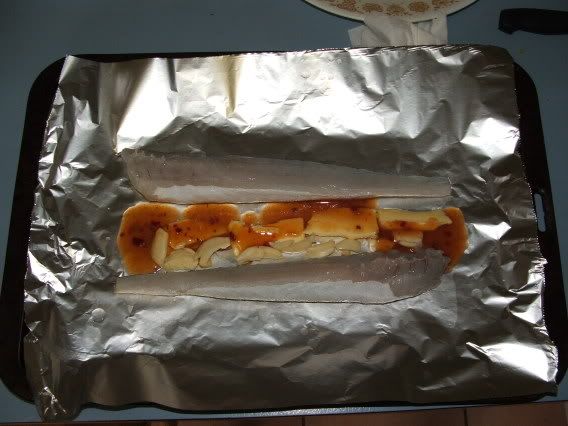 my mouth was watering I can tell you!
oven on 190, wrapped it up and in she goes. 25mins later.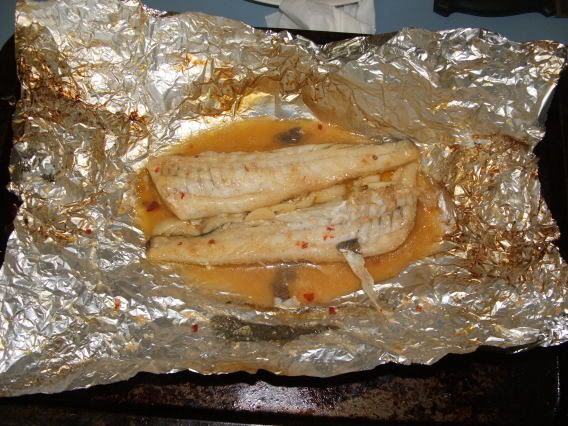 I'm no chef, but ya can't beat that. YUM!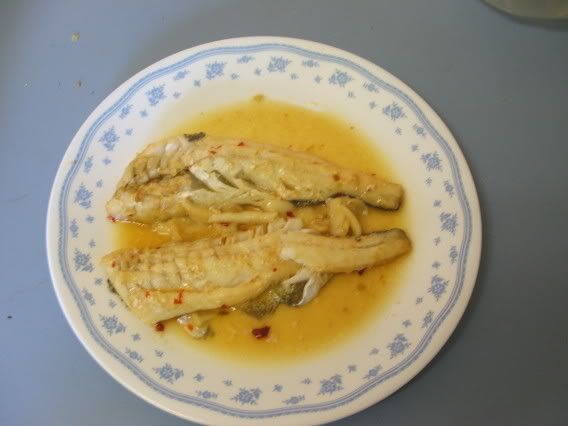 Yep, I ate the lot, and I'd do it again. ÂÂ