Discussion Starter
·
#1
·
Fishfinder - Drink holder / Scupper mount attempt 1
The designed fishfinder mount was created out of need for water temp needs mainly, allowing an outside Hull mounted system that can be removed and included on the kayak before launching, this system has been tailored to my Hobie Outfitter and could easily be modified to fit any other yak on the market with scuppers and drink holders.
( All measurements, images and information is a guestimate for my kayak only )
The unit where the fishfinder head ( This case Pirahna max10 ) is mounted needed to be portable enough while retaining maximum stability, it consists of 2 modular 90mm PVC screw on ends with a small section of 90mm PVC to allow the ends to flush mount into each other... A 90mm PVC screw on cap is used for the top with a 100mm push on lid placed snuggly on top to form a serious bind ( Also used to house remaining transducer cord and 8 x AA 2500ah rechargable battery box, giving me hopefully 5hrs+ ).
The transducer is mounted on some stiff but flexible hose style plastic pipe with a solid bolt covered by a modified scupper plug reversed to protect the hull from the boat, it also manages to snuggly stay attatched inside the scupper hole with remaining transorm cord housed in the PVC coiled enough to provide a perfect but stretch free enviroment... To install simply feed transducer cord ( Coiled up skinny enough to pass
through the scupper hole in a roll effect ) and plastic pipe through from underneath the yak onto the deck and in through the PVC system from the bottom up through and out from the grommet to the head unit, then place in drink holder ( A perfect fit ).
Very neat design and most of the items used were purchased at a Bunnings store ( Except for the fishfinder, that was from Big W ), Battery housing and snap atatchments a long with some gaffa from Dick Smith & the flexible hose style plastic pipe was found at a house scheduled for demolition a few moons ago... My gathering instincts knew it would come in handy one day, even if the garage resembles a dump site.
* Please note :
I havent had the pleasure of testing this setup or the fishfinder on water as yet so photos in the drink holder are not available as yet, let me just get home from work tommorow and get the yak of its rack onto the garage floor so i can get some images from the top side of the instalation... With the weekend bringing a journey Interstate i will
also endevour to go for a paddle on Thursday to evauluate the design and ill grab some more photos then & hopefully a fish located from the sonar.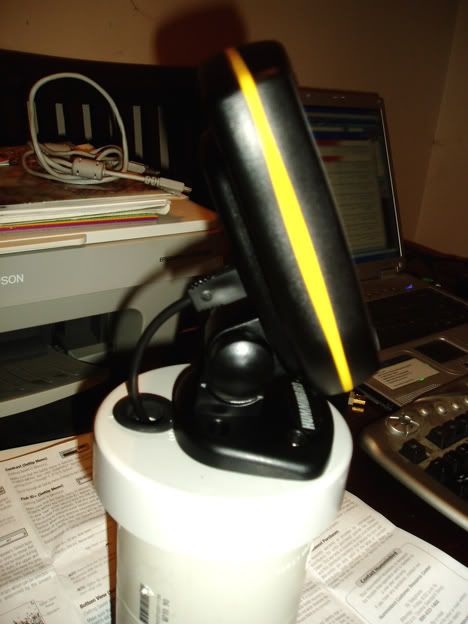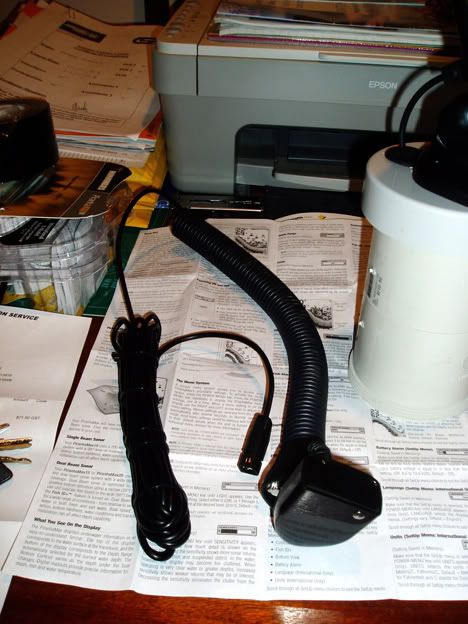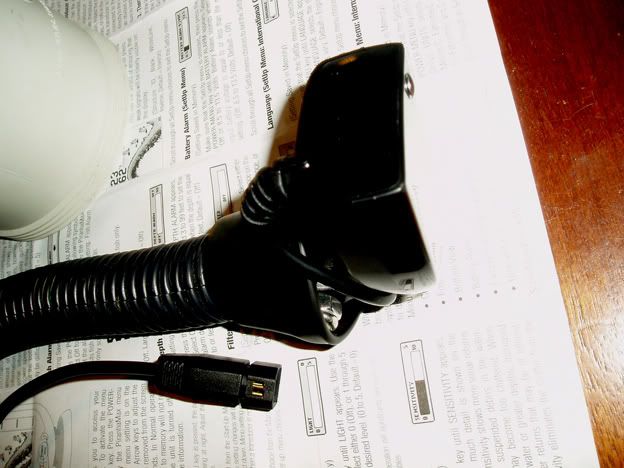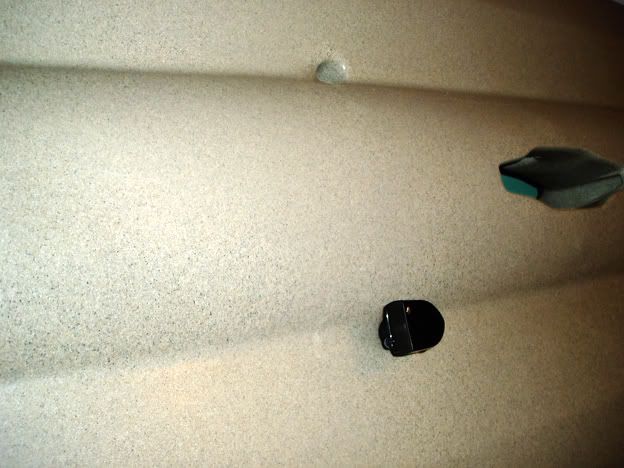 Fishfinder - Drink holder / Scupper mount attempt 2
After mounting the system right way up i noticed i had an overlap of that pipe about an inch too long, carefull i tried to cut it and took a small chunk out of the transducer cord ( Didnt go right through or appear to sever and type of wiring housed within ), This part remains well out of water so electrical tape should fix the problem. <crosses fingers>
Transducer cord looping was extended to twice its size due to stiffness and packability inside the modular mount, 5 small cable ties hold the cable enough to be twisted and stowed inside housing.
Test commences Thursday afternoon ( Weather permitting ) on LBG, going to use crap batteries to see how long i get on the water in worst case scenario ( Managed 6hrs+ in simulator mode ) and try and filter any disturbance created by the rear mirage drive... shouldnt be too much of a problem at trolling speed.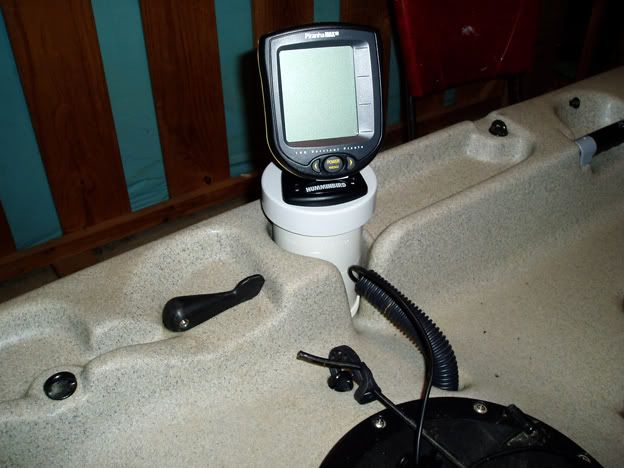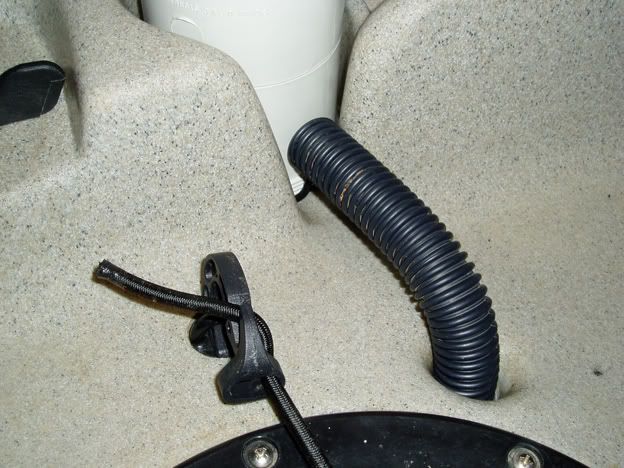 Fishfinder - Drink holder / Scupper mount attempt 3
Went to test on LBG, water was fluro green and borderline gross but went in anyway, easily set the transducer up and away i went... first use of a FF so was a little sketchy but soon tuned it well enough to get some great signals over 2.7m ( Loads of fish around on the sounder! )
Had a few weird things happen with the sounder when mass patches of weed appeared and some other things caused some disturbances but i can safely say none were caused by the mirage drive, i think the transducer twisted to a different angle a few times ( Due to heavy weed? ) but a twist of the pipe and a small pull up aligned everything well for a solid hour... Didnt fall out or dislodge so attempt 3 managed to work.
Conceptually im pretty happy, even with dodgy AA batteries i got 2hrs and would of got more but i powered down the unit instead of draining all power, will take this into account when i take it out for a run next week, even managed a small Redfin on sounder debut.