Discussion Starter
·
#1
·
A weekend of heat and harsh U.V rays was and has been forecast for Canberra but nothing stops me getting out for a fish especially when my sister Sarah has been asking for a go on the yak, after some calculations regarding time she arrived at my house approximately 7am and we loaded and headed for Lake Burley Griffin's Yarralumla Bay.
Sarah has her full licence so I was able to drive for the first time ( Legally anyway! ) with the yak on the roof, kind of forget its there considering the size of the vessel and the fact it is out of our vision... Felt good being able to have a bit of travel independence so i was in a good mood ( Bit grumpy in the mornings yaking due to lack of sleep ).
Rigged up the yak, plugged in the transducer and carefully aquainted Sarah with the do's & dont's of fishing from a kayak and the Hobie mirage drive system, as a fairly active girl Sarah was in her element even before the lures went in... now to get her into the fish, pakrats in black and green went out for the initial paddle from the Bay towards the peninsula of Black Mountain and a slow troll of no longer than a minute produced my first Redfin of the day, not a bad size Redfin of around 36cm and a healthy specimen to boot.
Sarah was impressed but knew a bit of sibling rivalry would help make a day of it, she took in my advice and interpreted my comments relating to the fishfinder, kept her eye on the rod tip and pulled her first Redfin along the deep ledge of the Peninsula, Sarah was happy even though it was foul hooked ( A fish is a fish, especially from a kayak! ).
Didn't take her long to hook up again with huge schools of small Redfin showing on the sounder, similar fish of about 15cm which completely caned the Killalure engulfing both sets of trebles... Released fish and set off again only to last 60 seconds before Sarah caught another 15cm Redfin ( Could this be the same fish? ), started thinking about asking for my lure back but i could see she was having a ball and enjoying the experience.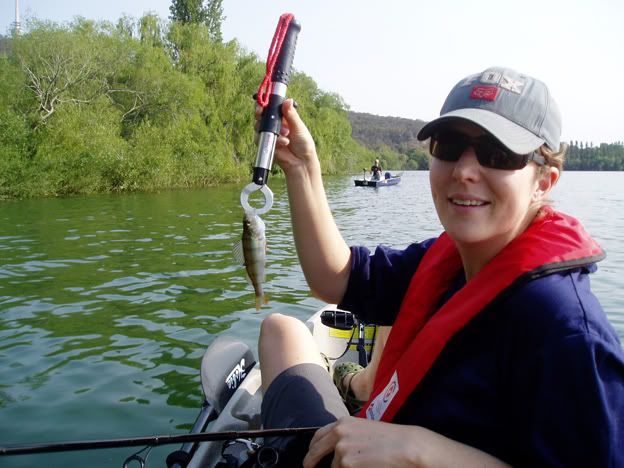 I switched over to my red Oargee Plow and the water hit a warm 22 degrees as we trolled close to the bank, Had a conversation with a guy on a tinny about natives who informed me he had extracted a 1.3m Murray Cod a few weeks ago from LBG, pointing yonder we moved on and focused on some structure in about 9m holding a school deep along the bottom... Zzzzzzz, must be a snag... <cue lost lure>.
Rigging up AGAIN this time with a larger Pakrat we headed back along the Peninsula down towards mine and everyone's favourite place Redfin land, the city was in ruins with swan plagues spreading weed and debris making it difficult to get any action on the lures, abandoning the town we troll towards one of the islands sighting boiling Carp schlurping bugs on the surface and many fish on the FF display, water had crept up to 23 degrees and we trolled the perimeter.
Sarah managed a couple more Redfin with her last topping 20cm while i was getting frustrated with the lack of action of my lure and the abundance of weed on my trebles, many a dead retrieve resulted in the clearing of gunk... It was almost time to head in ( Just give me 10 more minutes! ) when i landed my second fish of about 15cm.
Was that you Polar in your jaffa Hobie? Around the side on the Peninsula and close to the Island? ( About 8:30am - 9:00am ), If that was you sorry we didnt get to catch up or meet on the water but im sure we will bump into each other very soon... I have included a paddle chart for the first time so check the location and let me know mate!
A great day on the water with many fish, was a top way to catch up with my little Sister and get some retrospective in life... Turning 30 next week and not looking forward to it, is it all down hill from here guys?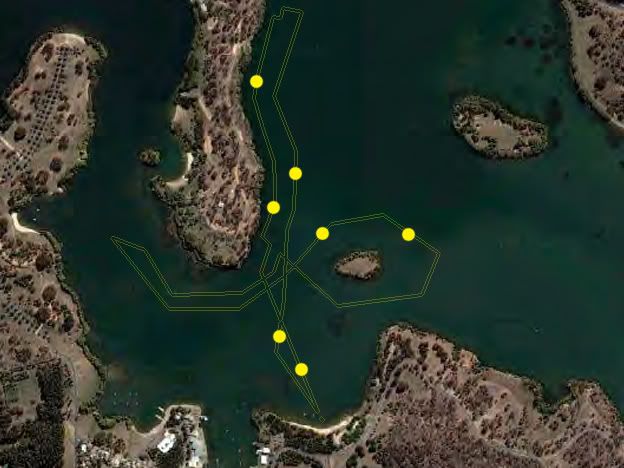 Hope you enjoyed the report! 8)