Discussion Starter
·
#1
·
Aargghh another bloody Redfin report. ( Sorry guys! )
Claire wanted a yak after reading about yesterdays exploits and im always up for one so an early Sunday rise followed by a quick launch on Lake Burley Griffin seemed like the ultimate way to spend a weekend morning, the car was packed around 8am and off we went to Yarralumla Bay only to run into a triathalon in front of the carpark ( Road closed, grumble grumble ).
A change in tactics involved discussing if Lake Ginninderra or Tuggeranong could be an option but the smell of scummy water lost out over better views and a well worn path, so round past and over the dam we went to depart from the Black Mountain Peninsula boat ramp in pristine conditions ( Compared to yesterday morning it was an amazing day on LBG ).
Arriving at the ramp we both unloaded and rigged up the yak, first inserting the transducer through the left scupper and setting up the FF followed closely by mounting the new Garmin GPS map 76s on a very similar system in the front drink holder, coaching Claire through some instructions we marked our waypoint and deployed the yak in all its glory.
My yellow Craftmaster Merlin was passed back to the person that bought it for me, first time she had held it since she exchanged money at A - mart a few weeks ago and judging by another stella lure performance at LBG it wont be her last... Hmmm maybe I should try the $5 orange Rapala Shadrap bought from Anaconda last month, pretty nice lure for the price so was sure I could put it to good use on LBG and start braining the huge schools of Redfin.
All my reports seem to contain loads of Redfin and this one is no exception in fact Claire and I caught more Redfin over 3 hours than we had managed before, Redfin land was a warm 21 degrees and full of hungry fish that made it in the yak ( First few spat the treble by the yak but I was not phased, perhaps I sensed the frenzy that lay firmly ahead? )
Could this be the day I manage to pull another native from Black Mountain?
Decided to give the BMP ledge a shot with the wind at a very minimal knot strength and the water peaking at 22 degrees making for a lovely pedal, The baitcaster in my Scotty / Hobie holder is equipped with 12lb smoke fireline with a 20lb Penn leader rigged with a Storm Wiggle wart allowing me to get down deep with enough strength to evoke some confidence... If Rob Paxo can pull some Goldens here with this lure on his Hobie then so can I, his report from BMP a few months ago was still fresh in my mind.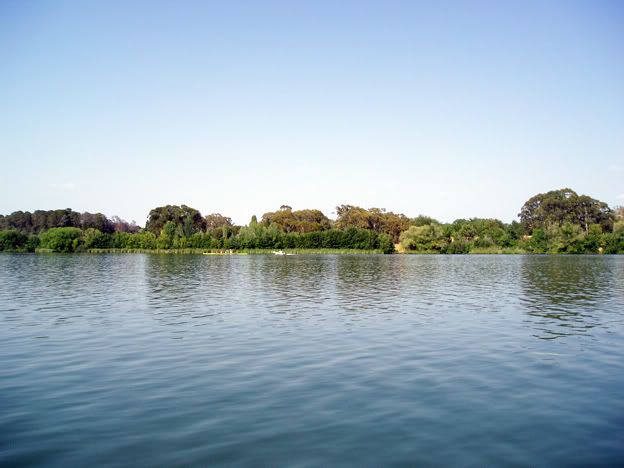 Loads of fish and wildlife with those funny birds building more and more nests filled to the brim with large plump white fluffy birds, funnily enough the larger fish sounded were in close proximity to snags next to or below these trees, I dont know if many get kicked out of the nest but with the noise these birds produce safely out of the water I could just imagine that the thrashing and thrilling shriek would surely be enough to entice a silver service feed for any monster BMP native.
Why so much talk about birds? Well because once again no natives were sighted or caught today, I was surely fishing during the wrong time of the day so didn't expect much... Claire was getting bored so we moved back round to Redfin land trailing breadcrumbs all over the shop and marking this weedy town as a waypoint for trouble ( Turns out the swan guards were not on duty so in we strolled pillaging the weak! ), to think before October 7th I had not caught a fish on LBG for about a year.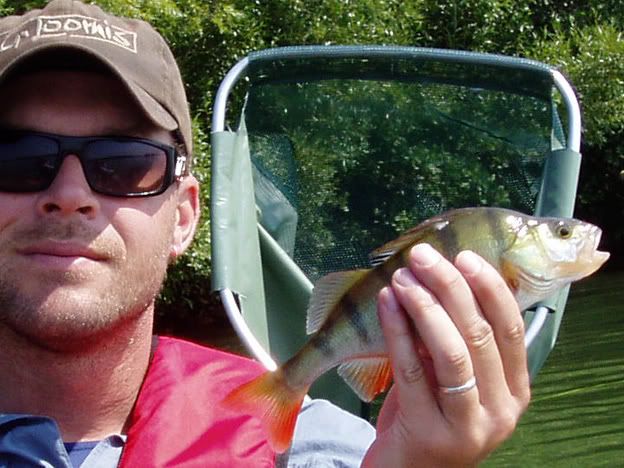 The English went spastic trying to retain there ground but Claire was on fire braining Perch one after the other including not one but 2 fish on the one lure in 2 consecutive casts in a row, I have never unhooked so many fish but it was good practice and there was plenty of it... On the troll or Claire casting produced many fish with a larger Redfin cruising behind the hooked Redfin sometimes veering off at the very last second when they saw the kayak ( One sighted was guesstimated close to 40cm ).
I was very proud of Claire, so proud I accidently hit her in the head with my rod while trying to free my Shadrap from the weeds only to lose it in a tug of war frenzy... Im sorry baby but I really wanted my $5 lure back so much nothing was getting in my way, guess you will just have to go buy me another one from A - mart huh? ( Sorry once again Claire, do I still get dinner tonight? )
I sure now how to treat a lady... Put her on my yak, hit her in the head and make her catch a feed. <such a caveman>
All this Redfin was making me thirsty so we called it a day, pedaling back to the ramp proved near impossible with fish schooling and holding all the way back to the ramp... I lost count ages ago but given the 3hrs+ on the water and the smell on my fingers a count of almost 40 English Perch wouldn't be too much of an exaggeration, was a great fun day with Claire using the Outfitter as it was intended ( Plus all the new whiz bang gadgetry ) but I cant wait for next weekend when the yak finally gets some salt on it when I visit my parents down the coast, cruise the Clyde river at Batemans Bay and hopefully hit Moruya.
Some practice in the salt would be a good lead up to the AKFF NSW convention at Barlings beach next year, perhaps I will even locate my own bait and try and become one with nature... Well I havent shaved for 2 weeks so I sure as hell look like I do, the flathead are calling so some slow drifting in the Merimbula lakes should be a blast ( Wish me luck! ).
Stay tuned for these coastal reports early in the new year...
Hope you enjoyed the report! 8)