Discussion Starter
·
#1
·
Canberra - Lake Burley Griffin 14/10/06
With Canberra and most of the Southern East coast states in the middle of a very unseasonal heatwave, the wind was blowing up to 20+ knots on Lake Burley Griffin... wasnt to keen for a yak ( even after last weeks effort ) because of the high winds.
My Girlfriends friends Fiance ( bahhh... lets call him Danny! ) was keen for some perch after i showed him the images of the Golden, I decided bad wind or not we were gonna have some fun anyway.
Claire and i arrived around 10:30 and launched with the wind from Weston Park, trolling around the immediate areas and holes whilst waiting for Danny... by the time 1:00pm hit we were both sunburned and dissapointed, no hook ups
Claire disembarked and Danny and i set out ( Once again, with the wind ) around the sheltered section of Black Mountain in search of the Perch, almost immediately once rounding the points into calmer water i pulled up a 25cm Redfin on another Kilalure Pakrat ( Bought some more after losing my fave last weekend ).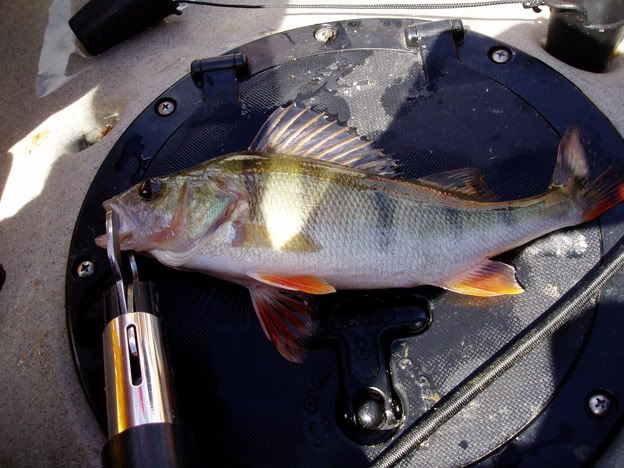 ( Photo taken on Dereks Camera before battery died )
Lots of carp around with the topic turning to Carp taking lures, ive spoken to many explaining ive seen Carp following my lures but that i actually didnt belive it was possible ( IE : a myth ) and as i said my predictable 'Oh well' Dannys small Rebel Crawdad got taken by something bigger, he called snag... i called Yella... and up came this 40cm Carp which was landed with the assist of my environet.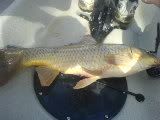 ( Photos taken on Dannys phone )
1hr later on the return another 20cm+ Redfin taken, Danny notching up his second Yak fish... pretty good angler, needless to say i was dumbfounded by the Carp whilst Danny had a ball and was screaming 'Convert!' by the time we landed at the ramp ( Approx - 5pm ).
( Photos taken on Dannys phone )
Doubt i will go for a yak tommorow though, meeting Red & Co for pasta and with the ribbing Claire and i will get about our sunburn im sure i will need a small corner to crumple up in...
Hope you enjoyed the report!