Discussion Starter
·
#1
·
G'day guys,
Took the pirogue for a walk in the upper Burrum today.
I had a box full of new berkley gulps and my trusty hardbodies and headed off down stream with the tide at about 09.30 (gentleman's hours
)
Flicked SP s all over the place for zip and changed to 3" gulp shrimp with a 1/32ox jig head. thew it at a likely looking buch of rocks and allmost instantly was smashed by something solid. No hookup. another cast and within 10 seconds the same thing happened again. half a dozen cast later, all getting monstered a nice ltlle cod came to boat. only about 20cm so back into the drink. my first SP cod.
There must have been a stack of them living on these rocks because after this one they came thick & fast. nothing worth keeping though.
Continued down stream and reverted to trolling two hard bodies. A SX60 and my lovely micro mullet. about half a mile down stream, th micro was monstered by something serious. i only had him for a few seconds before my leader was bitten off. :twisted: Searched through my tackle box, but could find no more mullet. :evil: :evil: :evil: changed to a laser pro in blue/silver colour and it started nailing even more little cod straight away'
Bugger this, went back to placcies for about an hour for zip. Pulled in to a sand bank. Desperate times call for desperate measures.
Pumped a few yabbies had lunch and a cuppa and then off casting livies at structure. my all time favourite way to fish.
Allmost sttraight away, smack, nice little bream at about 25cms. next cast, smack again
whiting at 39cm
gotta love those livies.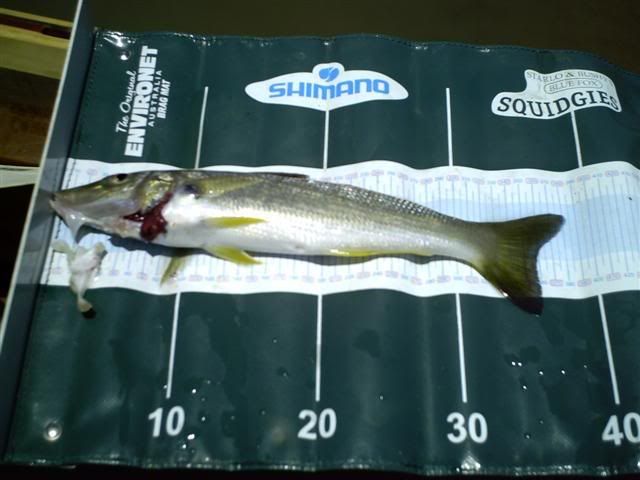 By this time, the tide had turned so I just continued drifting, floating out an unweighted yabby over the flats & gutters picking up a bream here and there..
When I was allmost back at the put in, my bait got nailed by something much better.
first run took all of my 100 metres of 6lb fireline leaving only about 20 metres of mono backing :shock: This took about 20 seconds. got the boat turned and started paddling franticly to try to get some line back. went something like this. paddle paddle paddle, wind like hell, paddle paddle paddle, wind like hell for about another 200 metres. eventually i started getting some braid back on the spool and all the while, was thinking, yeah spotted eagle ray for sure, mutter mutter mumble grumble fart, snort when suddenly I got colour - silver :shock:
Got him to the net, a couple of quick piccies and then back into the drink. after a fight like that, no way I could kill it. Not real sure what it is but I think it might be a diamond trevally? (53cms) Any ideas.