This was just such a relaxing, fun mission for me. The frustration of dropping fish after fish after several seconds of mayhem (those hairy's can really pull hard) turned into cheerful resignation after a while but only after I landed a beauty that was probably 1.5m long. There were many highlights for me, the conga line was just hilarious as were the sphincter jokes and seeing Al bring bluewater fishing to the cowan with his sambo's and bonito. I got a poor photo of his enormous tailor (see below). I also cracked up when Paul announced he was being towed around by his live yakka, there was so little current and the water was just like a mirror Paul had hooked a hairy too early on but of the buttock kind, thank goodness that turned out ok. We both managed Tailor on the troll out but he wisely kept his for slab bait while I bridled mine up with an elastic which snapped when I peddled a tad too fast and released the fish before I reached the mark. johnny's bladder management technique got me through the night no sweat, I had so many layers on it would have been a real challenge to have to take a piss out there. It was funny to watch how fast Keza was towed around whenever he hooked up as his yak is so light. Man I have to thank Dave/sbd in particular who gave me directions to the place no less than 3 times, shared the good oil about how to rig up (baitmate rocks!) and shared my hipflask. It was all about sharing on the night after all and I was strangely gratified when everyone decided to mosey over and fish in my enourmous burley slick and we started squishing pilchards into the water with our bare hands to bring them on the bite.
Overall these opportunities to fish, joke around and even have a bit of sober conversation and reflection on the majesty of nature too are just so precious and thanks to all the fellas for a great night.
My postscript is also unforgettable.
I blew a tyre on my car as I entered the eastern distributor around 1am. The incident response team helped me replace it with the spare which wouldn't inflate. They then towed my trailer and my car to the nearest service station, the coles/hungry jacks opposite the Moore Park Supacentre. I waited there an hour for the NRMA towing contractor to arrive. He had no problem loading my car onto the flatbed but couldn't find a towball, then when he was told over the phone where to find the ball he couldn't find a socket wrench to put the towball onto the back of his truck for the kayak trailer. My shifting spanner was 1mm too small and the clayton's servo had no tools. We ended up using our hands and writhing around on the ground twisting the thing on by brute strength and lucky it held until I got home. The M5 was closed westwards too by the way so we took backstreets. At Mascot we turned right into a street with a level crossing and blow me down if the friggin red light didn't go on, the claxon sound and the boom drop in front of our noses. The towie lit up a ciggy as a freight train probably a km long meandered past. Finally we got to Airport drive and the towie took a right instead of a left and increasing the distance home by 20% compared to if he'd gone left as I'd suggested. Never mind, he was a nice bloke who did feel a bit chagrined and when he helped me push the trailer with my pilchard-slick covered kayak into my garage at 3:30am I gave him a tip. Oh I forgot to mention that every bloke on the incident response team as well as the towie wanted a good look at my 1.5m hairy and I even let them have a stroke of it too. My missus absolutely hammered me in the morning when I woke after 2 hrs sleep to take my eldest to Summer Hill by 7:30am, come home, take 2 of my other kids to school and then drive to work in Liverpool using her car. I then picked the kids up from school at 3pm, picked up my eldest after sport at Summer Hill at 5pm, took my daughter to ballet at 5:30pm, worked at home until now and wrote this post. I'm off for some shut eye now, when can we do it again!!!!!!
the boys and their toys. My fishbag on the front is full of pillies for the slick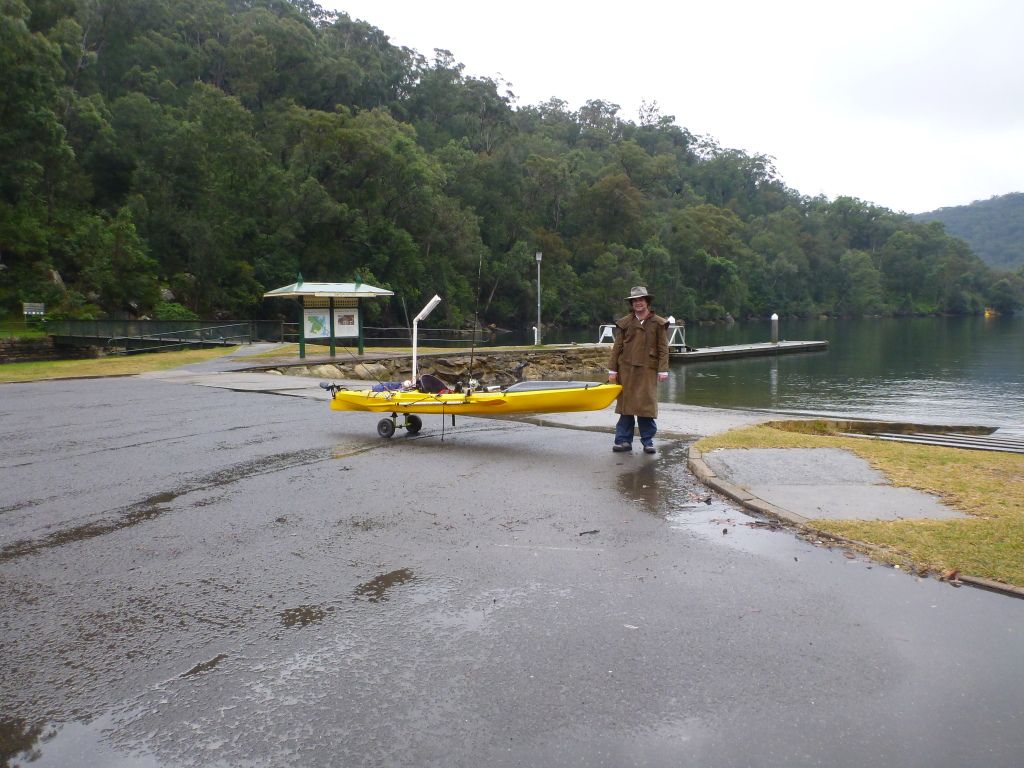 bluewater Al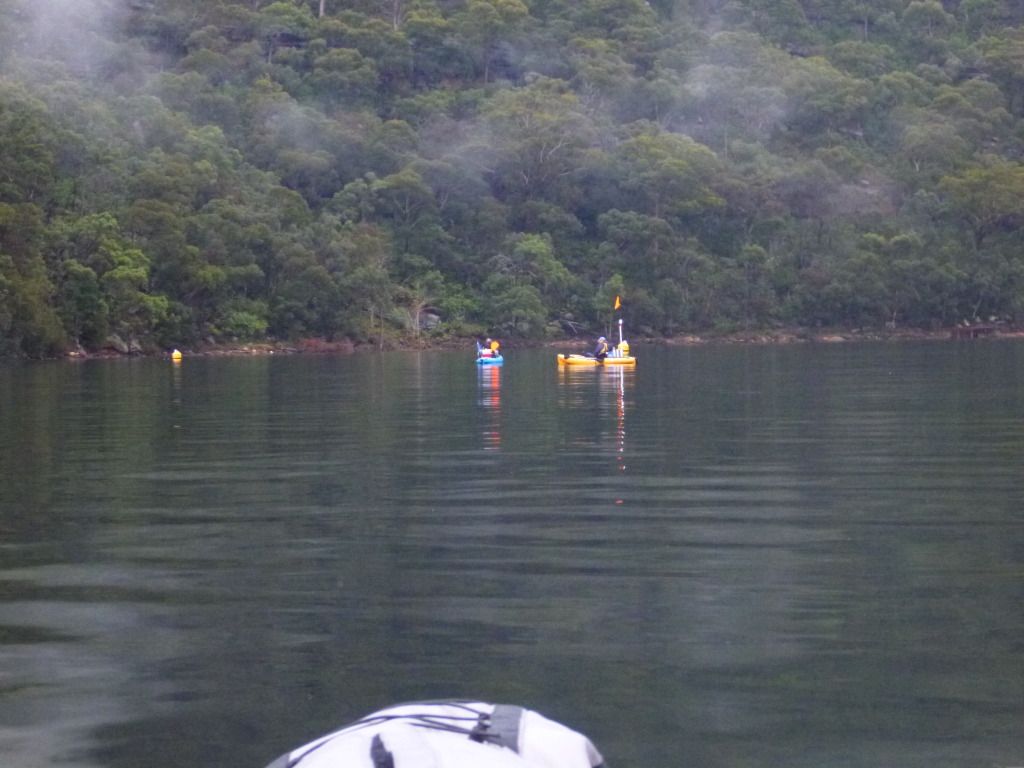 johnny and paulb looking for hairy love as the fog rolls in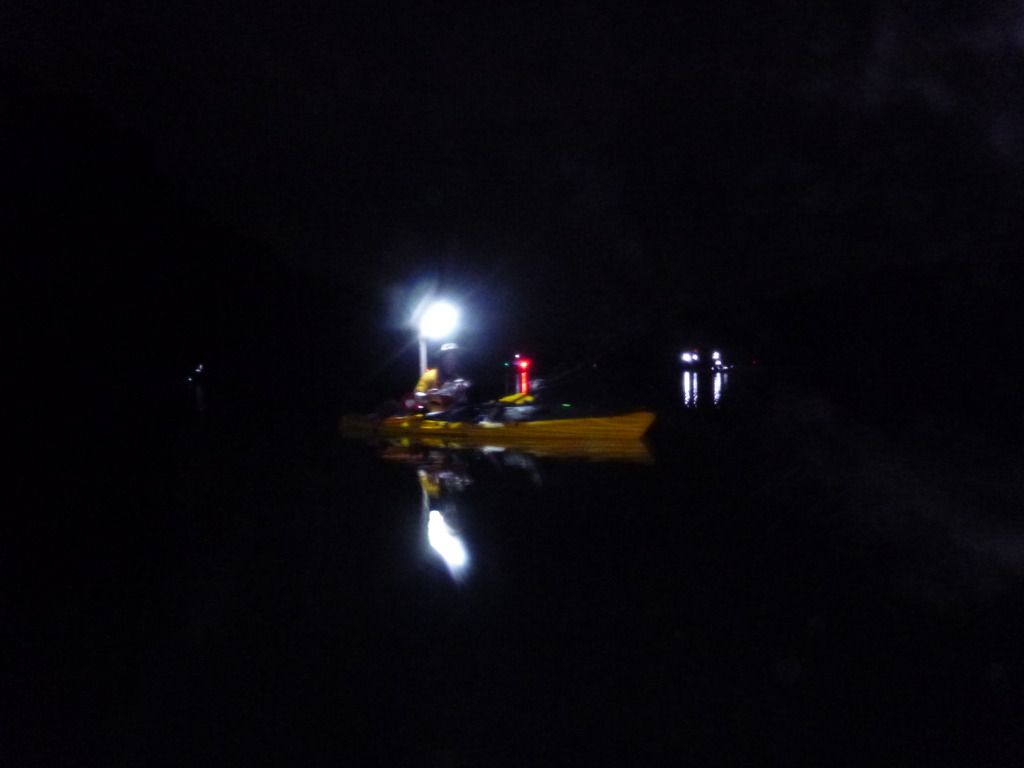 Al's cracker tailor