The weather was looking favorable and being the last day of the holidays I was keen to get amongst some pelagics, so dad, salticrak and I decided to hit up Halls Reef after reading the success the Noosa boys have been having there recently. Instead of launching from Noosa Main Beach and paddling the distance we launched from North Shore, which was a fair bit closer.
When we arrived there was a bit of surf to contend with, but all that was needed was to have a bit of patience and to scoot through in between the sets. As Salticrak was preparing he managed to snap the tip of his rod which wasnt a very good start, and may have had something to do with the fact he brought bananas with him
Once out there was a bit of southerly wind and chop but it wasn't too bad. I was first rigged up and started paddling SE against the wind towards halls, but was quickly sidetracked by some birds working to the north. When I arrived I could see that the splashes were longtails. I tried a few casts with a slug but the school was easily spooked and disappeared. By now dad and salti had caught up. I decided to keep heading south as the wind had pushed me a fair bit. I looked back to see dad with a very healthy bend in his rod. He had left his gaff behind so I paddled back towards him, only to find that a big shark had taken his floating pilly, which he then cut off.
By now more birds were working just a bit further north, so i quickly paddled upwind and managed a few casts. The boil disappeared so i let the slug sink a bit and started winding. As i did i felt some weight on the other end and then the fish realized it was hooked and my little Saragosa 4000 screamed. It felt like a good fish and put up a good fight on light gear, and after a few more blistering runs a nice longtail surfaced. After a missed gaff shot the tuna took off under the kayak and even with the rod almost entirely in the water there was a loud "CRACK". At first I thought I had lost him but realized that he'd snapped my rod in two! I was determined to land it now and managed to get a good gaff shot and into the hold he went.
By now we had all drifted a fair bit and salti was on to a good fish. Dad and I decided to head north towards Halls. The troll was fairly uneventful, with dad having one hit on his floater and I got a hit on the rapala I was trolling, both of which the fish spat the hooks. After not receiving much action and since both our GPS's had run out of battery and therefore we couldn't find the reef we decided to drift back north which was uneventful. By the end of the drift we could see salti close in so we paddled over to see what was happening. I had a little tap on the lure again but no hookup. When we got there Paully told us of how he had a double hookup with sharks and that he had almost been spooled by a monster fish
.
The birds were working south again so I started towards them. Due to the amount of fish breaching the surface i took the plunge and re rigged my broken rod. Im glad I did as I quickly hooked up to a nice mac tuna.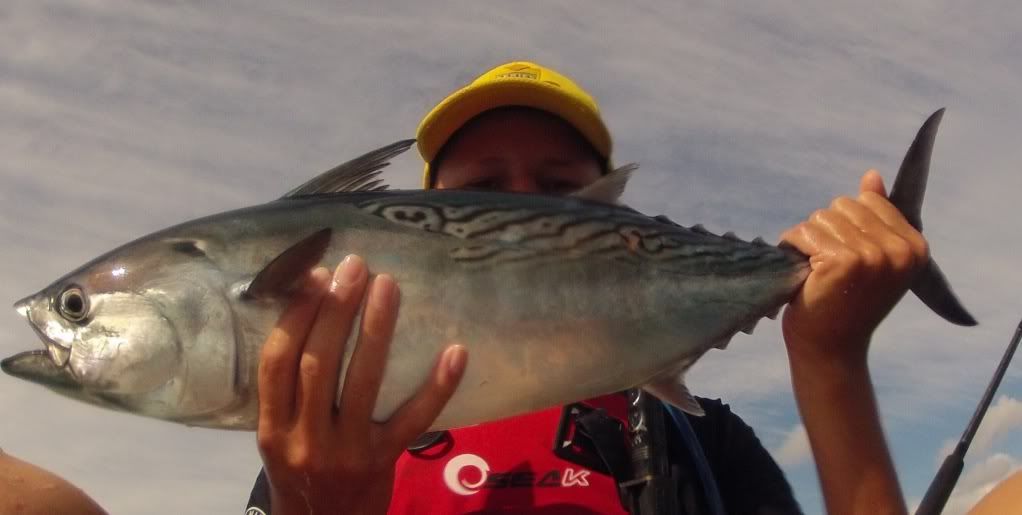 Dad caught up and explained how he had lost all his slugs to the boils so was now just trolling some bait. Just then the tuna busted up infront of us and I quickly sent a slug into the chaos and hooked up. I yelled to dad and my reel went off, faster than the tuna I had caught previously, then all of a sudden the drag seized and the line snapped. I was not happy to say the least. After examining the reel I found that the carbon drag washer had simply disintegrated. Im sticking to felt washers from now on
.
By now salti had headed in and we drifted back, doing some bottom bashing with dad catching three nice pan size snapper and I caught one. We derigged and headed back in, and managed to stay upright, much to the dismay of salti! He had ended up catching a good size tuna, almost identical to mine while we were south.
It was a good session, and it was nice to get out there again, even though we did break some gear (something to do with the bananas salti brought?)
Thanks for reading,
Cheers James