Preamble. We've had an exceptionally crappy past month and today was the first decent chance to get out into the open sea for over three weeks. Hopefully things are getting better

.
It being Easter, the moon was full and being a clear sky morning, it was beaming brightly low in the west when I arrived, early but last, at the Middle Groyne carpark for the first Noosa Yakkers offshore trip for several weeks. Corie M-T, richmond and gemini were already on the water (this was about 05:15), jaro had just arrived and beejay was readying his yak on the beach, having trundled it all the way from the western end of Hastings Street. Before offloading I strolled down to the beach, past a couple of huddled bodies in sleeping bags, where I found beejay assembling his gear. A small surf break that wouldn't pose any problems today (really?) was visible in the moonlight just off the end of the groyne.
Shortly afterward jaro and I joined beejay at the launch point. I went first, closely followed by jaro who had a splendid view as I went through the break zone just a little too early and collided with a head high wave just as it was breaking. I got through OK, but it was definitely not a dry-bum launch. Jaro got some amusement, and I was thoroughly soaked from head to foot (so glad I'm launching into a sea whose temperature is usually near 20 celsius).
By radio I then confirmed with richmond that he was heading toward LH Reef and Hall's, followed closely by gemini. Corie doesn't have a radio but richmond told me that he had launched earlier and was also headed for Hall's. We three at Middle Groyne now decided to head for Jew Shoal, thereby spreading the scouting parties around.
The breeze was steady from the SE so jaro and beejay popped their sails and soon jaro was way ahead of me. Only a few terns were visible on the way but the water was reasonably clean. By the time we reached the shoal I'd seen no dolphins, turtles, flying fish or surface activity but a dozen or so terns were hanging around the shoal, staying up high but obviously looking carefully for signs of baitfish being pushed to the surface. Just after we'd arrived I was trolling my Halco LP in a pattern over the Pinnacles and other prime Jew Shoal locations when the radio blared. It was a "Yee-Ha" from richmond, about 4 km to the west. Then shortly afterward he explained that he was at Hall's Reef, there were longtails blasting out all over the place and he was already hooked up to one of these speedsters. Then gemini radioed that he also was hooked up in the same area. While we had no obvious surface action at Jew Shoal I had spotted two big "boils" from individual large fish so I and my companions were torn between staying here (might burst into life) and heading for Hall's (definite action, but still nearly 4km away). Eventually, after a few minutes consideration, I decided that I'd take the plunge and paddle downwind to Hall's even though I knew that the 5km paddle back to Middle Groyne from there would be all into the breeze. My two companions at Jew Shoal decided the same.
When still 1km from Hall's I came upon richmond with fresh blood on his fishing shirt, a fish in the fishbox but a frown on his face. I'll let him tell you, if he will, why he was frowning instead of smiling, for as you can see, he had reason to smile.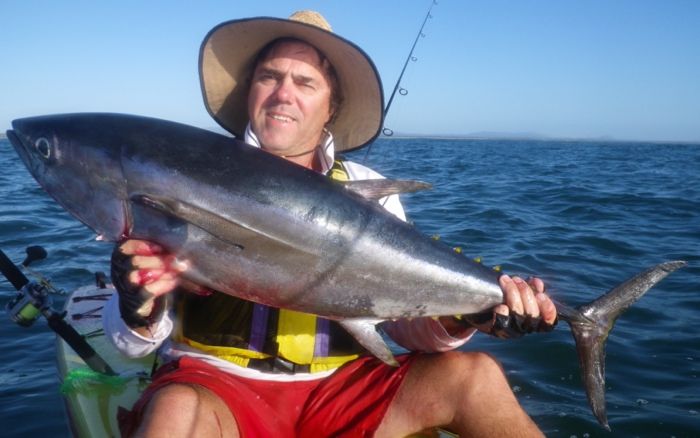 07:30. Richmond with slug-caught longtail
About now, gemini chimed in with the info that his fish had just self-released 40 minutes into the fight. But at least he got his lure back. According to richmond, the amount of activity had dropped off markedly now compared with earlier. Even so, bustups could be seen here and there.
We were now almost 5km from Middle Groyne, which was directly upwind. The breeze had just now slackened a little but could spring up again at any time. Be warned, this trip can be a very hard slog if the SE breeze gets to 10 knots. Being aware of this possible problem, the five of us (don't know where Corie was) now started to punch into the breeze toward Middle Groyne, anxious to reduce the burden if possible. I trolled, as did the others I believe and as we plugged along we were distracted from time to time by small, brief bustups on or near our course.
On one of these distractions, jaro cast a slug and got a hookup, which lasted only a minute or so before the fish detached. Very shortly afterward I got a solid strike on my Halco LP. The line poured off against the drag and I was just settling in to the fight when this fish also detached. Bummer!
The five of us were spread over a couple of kilometres length and about a kilometre wide, all heading toward Middle Groyne. Richmond (no radio at this stage) led the pack, while gemini was tail end charlie. I'd just watched the GPS tick over the distance to Middle Groyne from 3km into the high twos when gemini, down the back, announced another hookup.
Knowing that he might need some help as these were big fish (we could see them jumping) and he hadn't caught one before, I decided to turn downwind again and paddle the 600m or so back to him. Besides, I had a camera and he hadn't and a man's first kayak-caught tuna should be photographed on the water if possible. Jaro decided to come back also.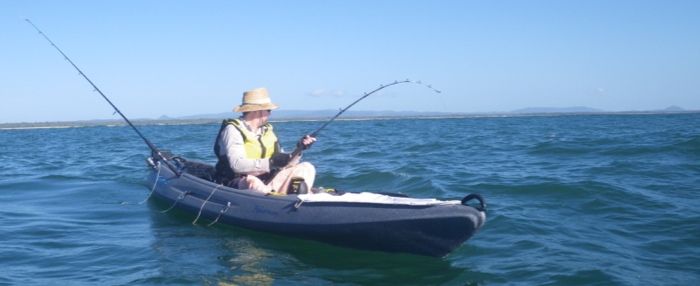 08:31. Gemini half way into the fight.
Eventually the longtail (for that's what it was as we'd seen it a couple of times as it came up to the yak) tired and gemini planted the gaff and hauled it aboard.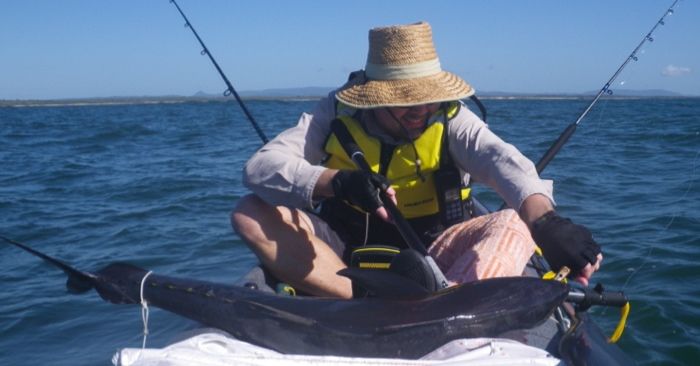 08:44. Gemini working on getting his lure out.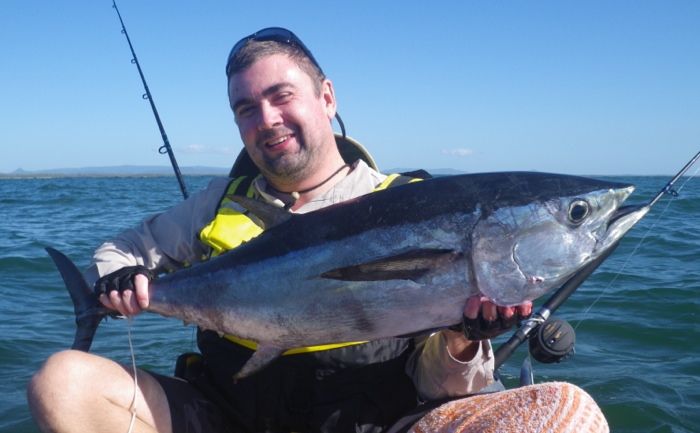 His first longtail, Laguna Bay
It was just after gemini had gaffed his fish that beejay, now closest to the beach of the rest of us announced that he also was hooked up. This was also likely to be a longtail and another first so jaro headed off to see if he needed any help while gemini and I had a photo session and tidied up.
After this it was the long slog back to the beach for gemini and me, almost an hour away. During this time beejay successfully boated his longtail and also headed for the beach so that jaro, I, beejay and gemini arrived back in that order, over a period of 20 minutes or so. Although there were a few hopeful board riders at the outer end of the groyne, there was no real problem in getting back in and all hit the beach the right way up.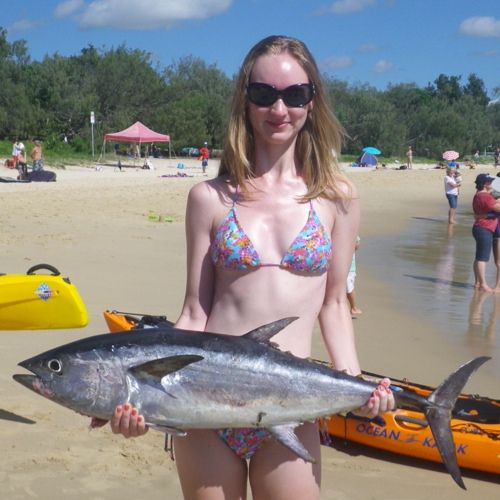 Beejay's first longtail, held by his son's girlfriend (yes, the whole family was down on the beach to welcome him back)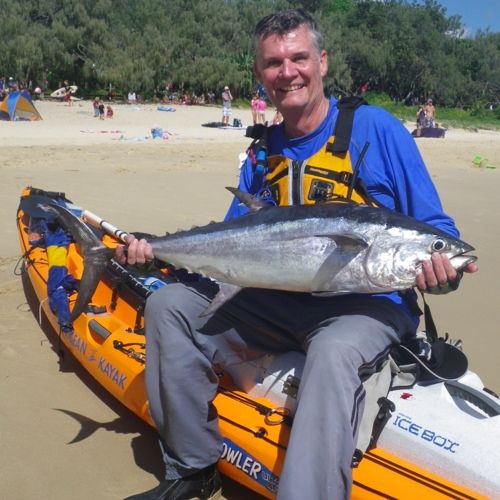 Same fish, this time with beejay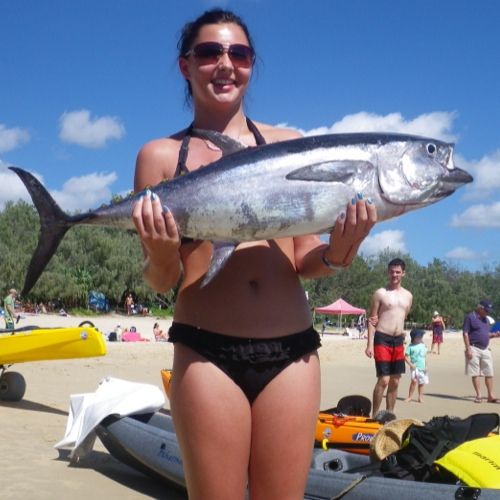 Gemini's longtail reluctantly held by Jasmine, young visitor from UK.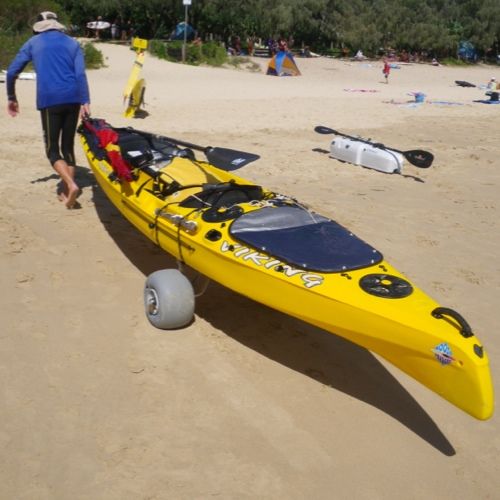 Jaro leaving beach fishless! We oldies let the young guys catch the fish today!
Thanks for reading AKFFers. Tight lines!