Its about time I reviewed the Catch I think, there has never really been that much in the way of user reviews for it, and with the realisation that its just past my 1st anniversary of owning it, its about time I wrote down my thoughts on it.
I hope it helps someone in there decision on which kayak to buy, and if you have questions for me, shoot!
Mission Catch 420 review by gonetroppo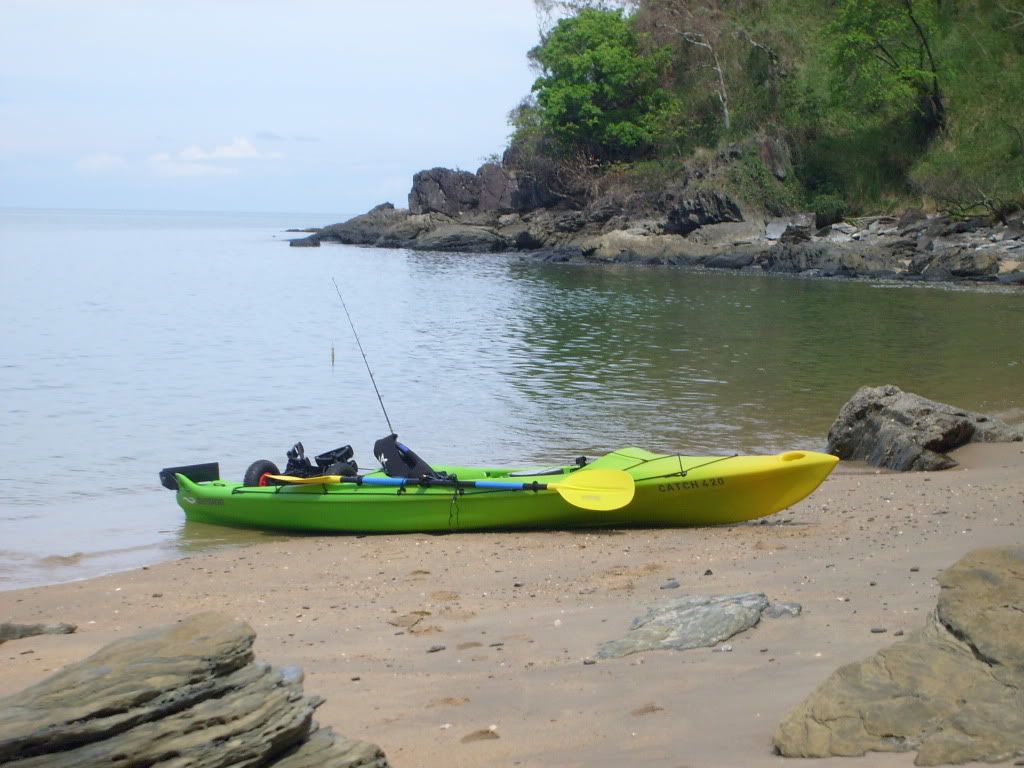 Length/Weight of Kayak:
The hull is 4.2m long and 73cm max width at the cockpit, it has a total weight of 28kg, and a max load capacity of 200kg. Standard specs for a kayak of this size.
Approximate Price (New/Used):
The highest price I saw being asked was $2000, I ended up getting mine for the best I could find which was a 'factory second' (clearance stock) from Mission for $1300. Second hand wise, ive never seen one for sale, if I was to put mine up today, id probably ask around the $1000 mark and see what happens.
Key Features / Layout & Design:
The design of the kayak is similar to that of the Perception Swing, a kayak held in pretty high regard around here. The hull is more of a 'punch through' than a 'deflect and go over the top' design so when conditions are choppy you do tend to get water comming over the front, generally this is only in good white cap conditions (+10kt) with a wave height of around the 0.5m mark to give you an idea. For a few meters of wave you do get pretty smashed as the bow spears through the wave and hits you right in the chest. Good fun in our 28 degree water and small (if ever existant) shore break, but I image it would be cold and cause a bit of drag for our southern paddlers. In short, its very much surf capable, but a raked bow like the Catch 390 and Flow might have been better.
The Catch has a very big keel so it its a very straight and true machine, however this goes against its turning ability, and the rudder is of no help in that department. The rudder at best will deflect 10 degrees either side of zero which means it needs speed to make it effective, while the Catch is very fast, its when you are slogging it in rough conditions in a stong crosswind that you really feel the need for the rudder, but the conditions mean you are making slow progress and the rudder is next to useless, sometimes I find halfway into a trip that the rudder isnt down an i havn't noticed.
Id say crosswind ability is 15kt before you start going sideways.
Speed wise it cruises at 4kts (7.4kph), and seems to glide well. Stability is good, however a rear-quatering swell can make things a little wobbily, I suspect that big keel gets grabbed by the wave, which I reckon would be another thing to consider if you do a lot of surf re-entries as the 'point of no return' from tipping would be sooner if you let it get too side on I imagine.
The layout I like, the front hatch is easily accesable on the water, there are side pockets next to my feet for my pliers and knife, The sounder hatch is not too far or close, and the middle hatch is large and not in the way when sitting down, it also serves as a good little prep and de-hooking area. There are two rod holders behind the seat positioned nicely for tolling, there are also two holes just forward of the cockipt, what they are for, I have no idea, but the rods sit almost vertical in them so its good for re-rigging etc. Rear tankwell is large and the smaller hatch behind the seat is fine for getting to and hooking up a battery. The battery mount itself is two bits of plastic glued to the bottom of the hull, hardly a big feature. Hatches are the 'whack on' ones, The twist and lock ones (like the rear hatch) I much prefer.
The moulded carry handles I have no issues with but I have been told they are terrible from someone helping me carry it from the water. One big problem that stops me from being able to move it around easily is the fact it is not balanced at the mid handles, I have to grab it at both the handle and the tankwell wall to hold it straight.
Ability to Customise/Accessorise
For a blanker canvas, there is the Xtreme 420 (with and without rudder versions), that will alow you to put holders how you want them etc. (and maybe a better rudder!) but you can still do lots to the Catch, I have struggled to find a good spot for a forward rod holder however.
To my kayak, I have added a Lowrance Elite 5 sounder, a 1sqm Pacific Action sail and a swivel mount rod holder. The sounder hatch is designed for smaller units so the Elite 5 only just fits, but the hatch wont close, so I have to take the head off and put it below. The scupper hole to mount the transducer externaly is good, but i find it still gets banged up a bit so will go internal on my next install (thats more of a internal v external debate rather than a flaw with the kayak, in fact, the small gap under the sounder box would be a top spot to put a transducer on the inside).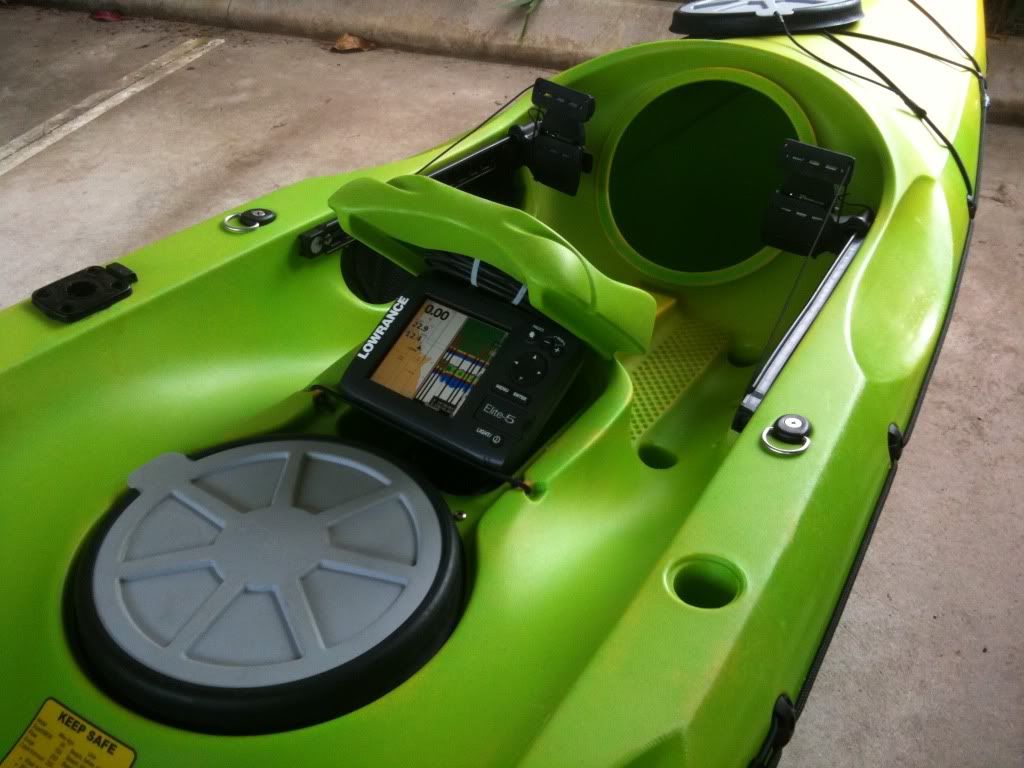 The sail works well, that big keel helps sailing in crosswinds and that nice efficent hull means you can really scoot along, only downside is it has a short nose so when stowed the sail sits well into the cockpit, and is only just below my hand on a stroke, so it it can get annoying sometimes.
The good thing however is that it can be installed without making a single hole.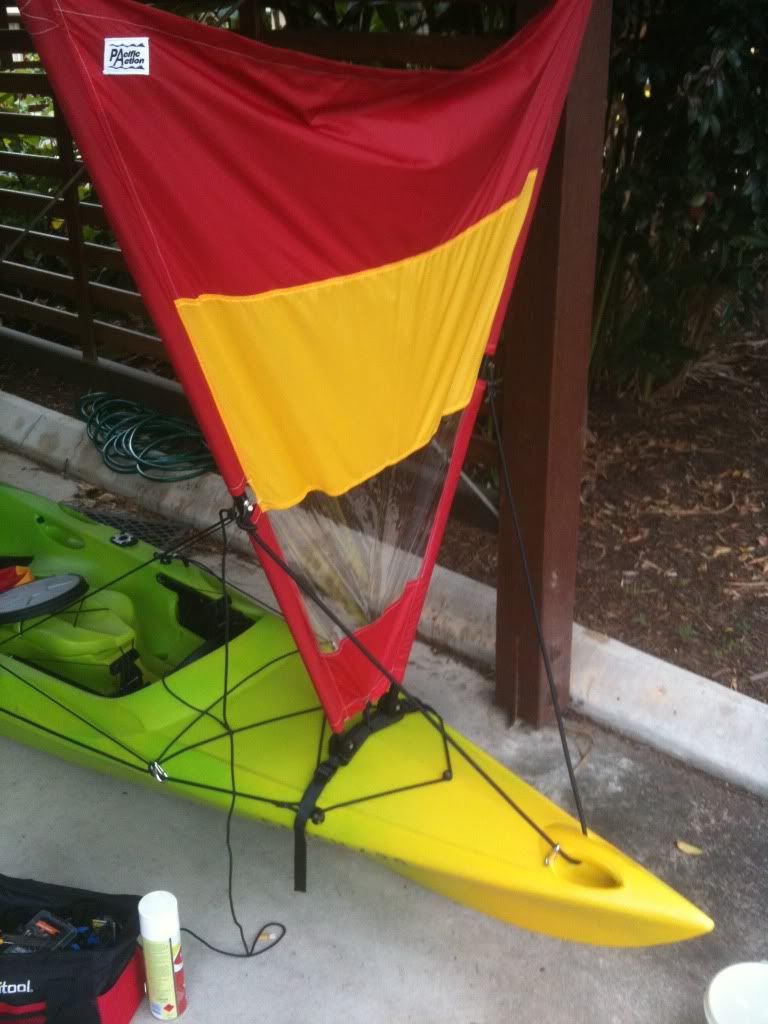 You can buy lots of add ons from Mission too, like custom cooler bags for the tank well and other neat things.
Conditions best suited to (Estuary/Offshore/Rivers)
Ive taken the Catch everywhere, dams, rapids, fresh streams, estuary and offshore. Where it shines is offshore, with its speed and tracking its a mighty fine sea going vessel. The speed helps alot when going up stream in rapids/against the tide in the rivers, and just getting from a to b quicker in the dams, however its in the tighter areas where you notice its turning ability.
Best Aspects
Speed
Layout
Look
Colour Range
Sounder Hatch
Quality
Versatility
Worst Aspects
Rudder
Center Balance
comes packaged with negative mojo, (im only just starting to catch a fish or two!)
Overall score out of 10
7.5/10
Im happy with my Catch 420, a great kayak and while I like some other kayaks too, in the end I came to the conclusion that its really a great allrounder for a good price with lots of potental for you to put all sorts of money gobbling toys on.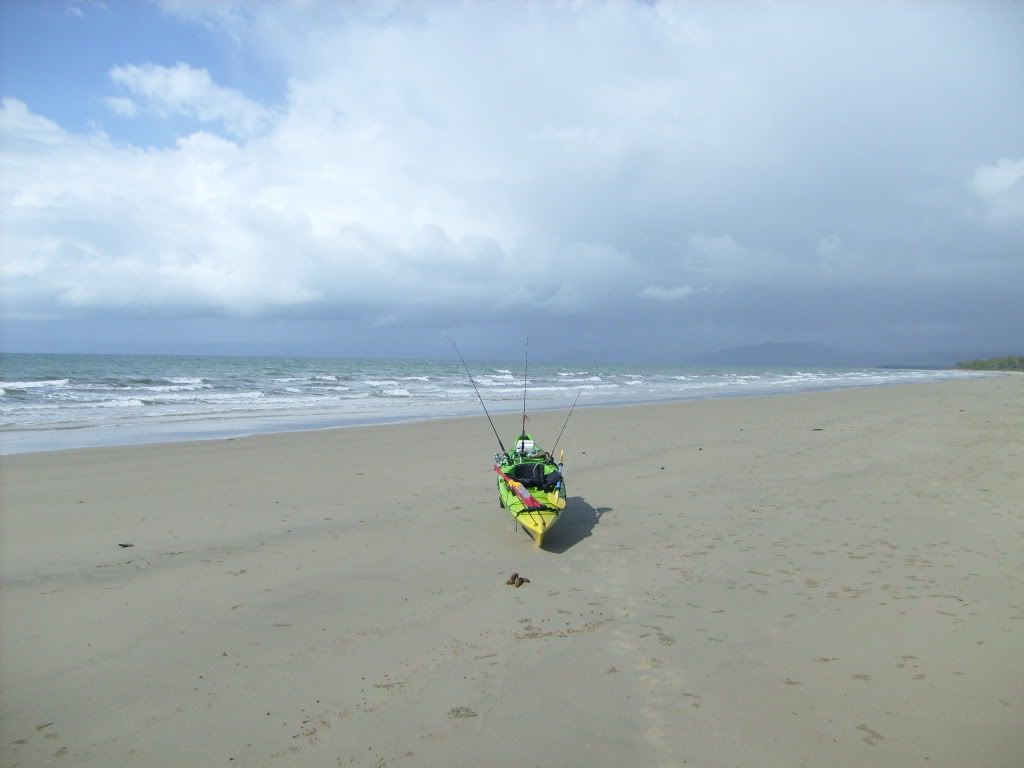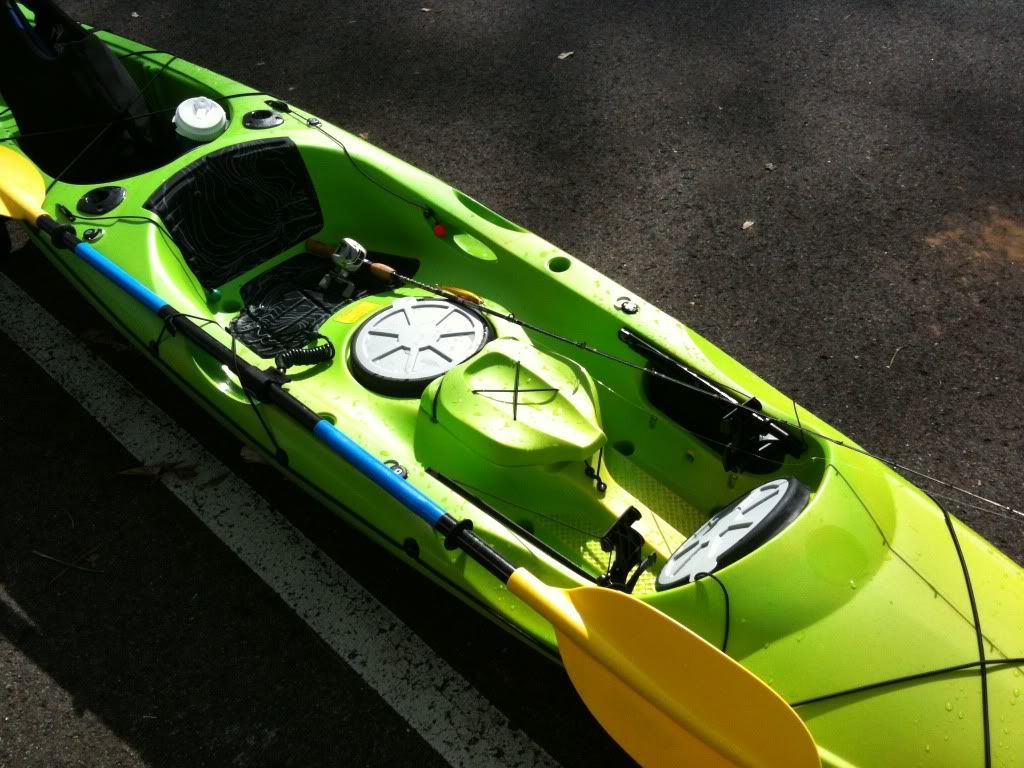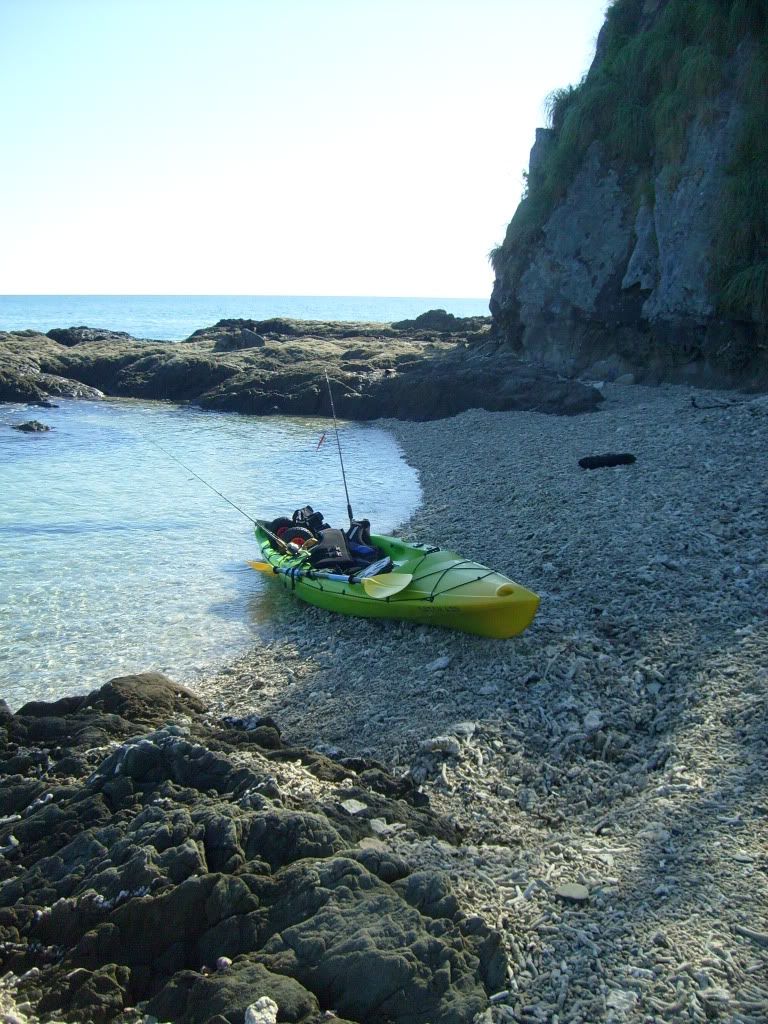 Ask away if there is anything i've missed or you want to know more about....