Derived from this topic:
viewtopic.php?f=18&t=42456&start=15
After forking out a fair few dollars to get his computer cleaned out (again) from another virus infection, Bob (LabRat) expressed an interest in Linux in the thread mentioned above. I figured I'd pop up a topic for people who are interested in investigating alternatives, and finding out what all this Linux/Ubuntu/open source stuff is.
1) Open Source / free software: Itch scratching and a free lunch. (skip this bit, if you're not interested in the background).
Open source isn't really new. Right at the moment, if you're reading this post, you're already using heaps of open source software.
You might be reading it on firefox (open source).
You're connecting to a server that's running linux, apache, php, phpbb and mysql (all open source) - in fact, a large majority of the web sites that run the internet, are all running open source software.
The domain name system that tells your computer how to get from A to B is generally run on open source software.
Most of the emails that rocket around the world, are handled by open source software.
Facebook, twitter, google, picasa.... all the sites you know and love? Layers of stuff over open source components.
Using an apple mac? Based on the BSD kernel - open source.
Have an iphone? You're already running unix (open source).
Have an android phone? You're running linux right now without even realising it.
Got a Tivo at home? Linux.
Your ADSL modem, or wireless router? Probably linux.
Even if you're a pure windows user, the TCP/IP communications protocol in windows, which allows a computer to communicate with the outside world, is open source.
So, without even realising it, some device or other in your house is definitely using open source software, and you most probably already have a linux machine running quietly in the background, somewhere or other.
So what is this 'open source' stuff?
Wikipedia tells us: "Open source describes practices in production and development that promote access to the end product's source materials. Some consider open source a philosophy, others consider it a pragmatic methodology.". yeah, true... but booring as batshit.
All it really is, is a bunch of geeks that like programming stuff; generally, they'll code something up to 'scratch a personal itch' (like getting their scanner to work, import an old wordperfect document, or perhaps, for some strange reason, writing a program to make their toaster burn 'happy anniversary' on their wifes toast of a morning. Once their code works, rather than having it gathering dust on some hard drive somewhere, they throw it out on the internet, and say "Ok, here's my code to burn 'happy anniversary' into my toast. If you want it, it's yours - on the proviso that it remains free."
Someone will spot that custom-toaster code, and change it so that it can burn "happy birthday" too.. Then someone will submit a change to burn arbitrary text on a slice of toast, then someone might change it so that it can burn images.. and so, (using a completely nonsensical example), you eventually get a bit of free software that can burn the likeness of jesus on a bit of toast.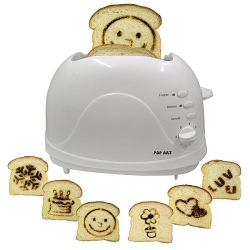 There are more familiar examples however - firefox, openoffice, gimp.. and so on - all of which are not only free to use & download, but are also free to download the original source code, and change/modify for your own requirements. From a security perspective, it also means that you can download the code, and have a really good look to make sure that there aren't any really big security holes in there. In a closed source project, that is not an option. Practically of course, the average punter is never going to do that sort of thing, but for the large open source projects, there are quite a few people around the world, from large organisations (Sun/Oracle, IBM, Google, etc) pounding on these projects to make sure that they're pretty robust.
Open source gives these various big companies the opportunity to share resources in their non-core business (eg: by providing programmer resources to the apache web server, or firefox), and still compete against each other in their specialist areas (chip manufacturing, operating systems, databases, web search, whatever) - enriching the 'software ecosystem', and benefiting everyone.
We're reasonably familiar with open standards as a concept. Many moons ago, when electricity was new and cool, each appliance manufacturer had their own plug format. You'd have to call in an electrical specialist to wire in a plug if you bought an appliance that used a format you didn't already own. Unsurprisingly, this generally meant that whoever sold a consumer that first appliance, would have them forever - it was too much stuffing around to buy a different appliance from some other manufacturer - even if it cost them a bucketload more money over the course of many appliances. After a while, the general public said "bugger this for a game of soldiers", and insisted on standardised electrical plug formats.
Unfortunately, monopolising a consumer / consumer lockin, is sometimes considered 'good business practice' - so companies tend to wander back to the 'different plug' idea whenever they can. Microsoft word is a classic example - by not only establishing their own document format, but also actively fighting against worldwide open standards, we're in a situation where MS would prefer that you can't edit your document/spreadsheet on anything other than microsoft products. Take a step back, and squint a bit, and it seems crazy that (for example): "Sorry mate, only people with a Parker ballpoint pen, can change the writing on this bit of paper - go an get yourself a new writing implement".. but we accept it at the moment in the software world, because we don't know much better.
2) Linux
Linux has been around for a while; I've been using it for decades; but it's only really recently that it's started to get to the point where it's clawed it's way out of the geek world.
Linux is an operating system - just like Windows, or MacOSX, or freebsd, or Solaris, or VMX, or many others that have been around since the dawn of computing. Unlike windows/Mac however, there are multiple 'distributions' out there that you can download (for free), and run - ubuntu, fedora, redhat, suse, mint, mythbuntu... the list goes on. Some, are commercially backed, and provide support resources (for a price), others are free to download and use, and provide 'community' level support.
What does it look like? Well, mine looks a bit like this:
However, you can make it look like this:
http://studiotwentyone.files.wordpress. ... 8/desk.jpg
or this:
http://studiotwentyone.files.wordpress. ... 09/byh.jpg
or...
http://www.techmixer.com/pic/2008/02/ma ... eopard.jpg
http://blogs.pcworld.co.nz/pcworld/tux- ... 0vista.jpg
http://aminesoft.files.wordpress.com/20 ... =510&h=382
or even:
http://gregms.com/wp-content/uploads/20 ... livetv.jpg
Appearances are nice, but lets get down to the nitty gritty.
Can I browse the web, get to AKFF, facebook, and so on?
Yep.
Can I watch youtube?
Yep.
Can I open my office documents?
Yep - openoffice will load them in most cases - with about the same level of issues, as you'd find between two different versions of MS office (eg: word 97 to word 2000).
Can I load <windows program 'x'>
Probably not. In the same way that you probably can't load a windows program on a mac, you can't load a windows program on a linux box. I say 'probably', because there are exceptions.. you can load a program called 'wine' on the computer, which will run a fair few windows applications, if you really need them.
However, there are generally linux equivalents to windows applications.
Firefox and Chrome are available (IE/Firefox/safari on windows)
Picasa has a linux app
Google earth runs fine.
Openshot video editor, or kdenlive, or LIVES (etc), provide video editing.
GIMP provides photoshop-like capabilities
Skype is available
Apps like GNUCash and KMyMoney provide accounting packages.
http://www.ubuntu.com/desktop/features#apps
What about games for the kids?
Yes and no. In general, you won't be able to go down to dick smith, buy a game for the kids, and load it on - they're generally windows.
There are exceptions..
http://appdb.winehq.org/objectManager.p ... plications
http://www.playonlinux.com/en/
.. but in general, linux native games are the way to go:
http://www.linuxgames.com/
http://mamedev.org/
What about viruses and spyware and all that stuff?
What viruses?
There are a whole lot of geeky reasons behind that statement - and it's always possible to write a virus targeting any operating system you care to name.. but viruses on linux (and also Mac's) are just not something that enters the average users head-space. I haven't run, or needed to run, a virus checker for decades on Linux.
The architecture of Linux is significantly different than windows. First up, it's multi-user through-and-through - the whole operating system is designed with the idea of 'privilege separation' from the ground up. Viruses have a much harder time infecting a 'system'.
If a user manages to somehow infect themselves on a linux box, all you generally have to do, is delete the user account, recreate another one for the same user, and go on with your life; your actual 'computer' no longer has a trace of the virus that infected the user account; I'm simplifying a little here; and operating on the 'current state of play' - but in general, your risk of virus infection on a Linux (or Mac) is exponentially smaller than a windows machine.
Is it hard to use?
http://www.ubuntu.com/desktop
Sorry - I'm biased. For what I do, it's a HECK of a lot simpler. I find going back to a windows box a real chore.
However, I've had both my grannies running linux for a while, parents on both sides, and my kids, from the age of 2 up, have all been using Linux to play games, do homework, access educational web sites, create pictures, and so on. It doesn't take long to adapt.
Many companies worldwide are using linux as their desktop of choice; entire countries governments are now requiring linux for govt departments.
Will it work with all my hardware?
Probably - but maybe not.
Many companies work with the open source community to bring drivers to their devices. Epson are pretty reasonable for example, HP are excellent, Canon.. not so crash hot. Cameras will work out of the box in almost all cases. Base computers/monitors, not a problem in general. Stuff like scanners and printers can be a bit dicey. Some usb network hardware (eg: the 3g dongle thinges) are touch-and-go; however, what doesn't work in one release, might work in the next release. New releases come out every 6 months or so, and your computer will generally offer you the opportunity to upgrade automatically.
What about speed?
Linux will generally give your computer a big effective boost in speed. Got an old computer that feels like it's wading through treacle to get things done? Rather than chucking it out the door, and grabbing a new box, it might be worth sticking linux on it - it's likely to bring the computer back to life. Boot times and shutdown times will be markedly reduced, application startup times might be quicker, and operating system crashes will be practically non-existent (I've had computers running for literally years, without turning them off, that haven't had to be rebooted).
How much?
Nothing. Great eh?
http://www.ubuntu.com/how-can-it-be-free
Pop over here, and grab the latest release of ubuntu to start with.
http://www.ubuntu.com/
Zap it on a CD or USB key. Boot it. It'll offer you the chance to try it out on your system, live from the CD/USB. It'll be a fair bit slower than it would be, running from the hard drive, but you'll get the chance to feel it out on your system.
If you're willing to take the next step, you can install it on your computer - either by killing off windows completely (make sure you save off your documents first), or by automatically repartitioning the computer to run both windows and ubuntu side-by-side (you can select which you wish to run, at boot time).
Ok.. enough of my rambling for the moment. Questions?
Red.