I have a couple of mates who want to paddle down the Mary river and have asked me for some input they expect to spend at least a week camping have no kayaks (they hope to hire them) they are experienced surf ski paddlers i know nothing of that river but have done some trips in NSW & Vic How far up stream can you start ? is it hard to get on shore to camp ? can you drink the water ? do you travel past any stores for supplies ? how far can you travel & is there much flow in the river i know that will vary if anyone has done this trip please let me know .Thanks
New Member
Posts: 19
Joined: Tue Jan 17, 2006 5:02 am
Location: Newcastle area
---
---
I cant help with any of the details you are chasing, but if you find out, can you post here? It sounds like something I'd like to do myself
Elite Member
Posts: 1838
Joined: Sat Oct 18, 2008 6:02 pm
Kayak: Tempo Seabreeze Bandit Pacer
---
Legendary Member
Posts: 4783
Joined: Sun Mar 25, 2007 10:21 pm
Kayak: blum
---
G'day Choke and welcome aboard mate.
First up, It is possible to paddle from Kenilworth or thereabouts to allmost Maryborough when the river is flowing as it is now. there will be some portages involved. (carrying your boats and gear around wiers and very shallow patches etc.)
I am by no means an authority on the upper Mary but have paddled parts of this magnificent river at times.
There are no kayak or canoe hire mobs that I am aware of in this area who would cater to your needs. You and your mates would probaly need to supply your own boats. Perhaps hire them from somewhere else. Canadian style caoes would, in my opinion be a better option with their superior load capacity.
As far as I am aware, there are no shops within walking distance from the river except at Gympie through which the river flows. You will need to be self sufficient in everything. the water is fresh and clean and I drink it. Others have experienced "difficulties" in that they have got the shits after drinking it and blamed the water for it. The choice is yours mate. I would boil it first at least. Plan on travelling a maximum of 25 kilometres per day. Some days you will be very lucky to get that far.
Mate, paddling a surf ski is very different to a multi day/week expedition in canadian canoes or kayaks - particularly so, through wilderness and genuine grade 3 rapids in places. This is a huge undertaking by any standard and is not to be taken lightly. You will need to carry enough food (and the means to cook it) for at least a week. Be aware that the river rises rapidly and is very capable of washing your camp and boats away while you sleep.
There are many publicly accessable places to put in along the length of the river byt vehicle security will be a problem unless you have a road crew. I would very respectully suggest a day trip along a section of this river to at least give you an idea of what you are planning onundertaking. To this end, i would recommend the section between Gundyah and Tiaro.
This is a fairly big day's paddle and you mates will get an idea of what they are about to attempt.
There are plenty of places to camp. be aware they are all privately owned by farmers who don't seem to mind much provided that the campers do the right thing and leave no mess or fires burning.
If you go here :-
http://www.bom.gov.au/cgi-bin/wrap_fwo.pl?IDQ60287.html
and scroll down to the Mary River at Miva. The river height needs to be higher than 1.8 metres and less than 2.3 metres for optimal, safe paddling in that part. Any lower and you will be doing a lot of walking, Any higher - suicidal IMHO
Wildish bass are in this river in numbers as are toga and catfish and mullet. You will see lungfish and the Mary River Turtle and the trip is well worth doing but you need to prepare for it . Good luck mate.
Here are a couple of piccies of the river between Gundyah and Tiaro.
The darkest places in hell are reserved for those who maintain their neutrality in times of moral crisis. Dante Alighieri
Regards,
Mick

Legendary Member
Posts: 2723
Joined: Tue Oct 18, 2005 8:13 pm
Location: Fraser Coast, Qld
Kayak: JEMWATERCRAFT Southwind Pirogue and Laker
---
You're the veteran Mick but I thought rapids and canadians produced things like this?
That was from one of colzinhos reports.
Legendary Member
Posts: 3081
Joined: Sun Sep 02, 2007 3:01 pm
Location: Brighton, SA
Kayak: Stealth BFS
---
Regular Member
Posts: 53
Joined: Mon Nov 03, 2008 11:22 am
Kayak: 7 incl Raider X- Presto 537- Sirocco- Sprinter
---
LOL,
G'dy Jon,
Mate, that can happen just as easily in a kayak.
I was talking about boat suitability for an extended, unsupported expedition on a river. The white water on the Mary is not really that big most times, more a series of gravel races and a lot of fun. it is possible to do it in/on a kayak but not as practical and the amount of "comfort" stuff you can take will be limited.
I like to take a BIG cooler full of beer and food, a comfortable tent and sleeping gear, camp stove, chair and several changes of clothes as a minimum. Count on requiring 3000 calories at least per day in food.
I do trips like this for the joy of doing them and to enjoy every minute of them. Not to see how much discomfort or misery I can endure.
Oh yeah, strong canvas shoes are also important for walking through the real shallow patches.
I have been planning on doing the length of the Mary for some time, ie from about Canondale, well up stream from Kenilworth to Maryborough or even River Heads but thelogistics of the thing are huge. It would be at least a two week trip for me and I just couldn't imagine living off a kayak in the bush for tghat length of time. I guess I must be getting old.
The Mary River, or Mamabula in the local Gubi Gubi language is a very spiritual place for me as she is for all who have ever spent time on her. To paddle the upper reaches is a journey of the soul and should be a must do for all who live in South East Queensland. She is the living, beating heart of this area.
I would encourage anyone to experince her at least once in their lifetime and they will understand what I am talking about.
More piccies, This time, taken from the latest damn dam protest.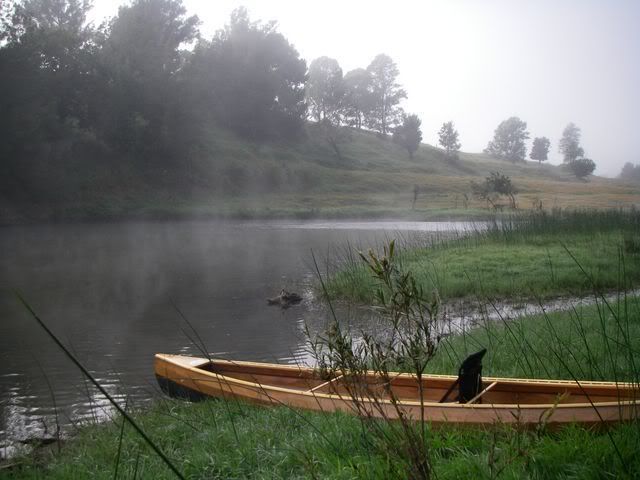 Some very friendly locals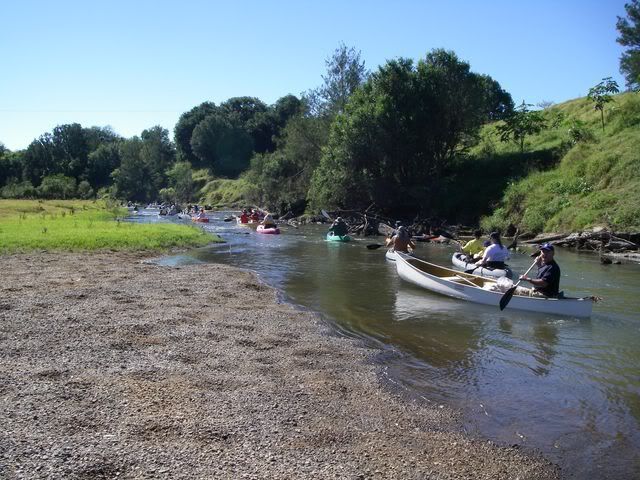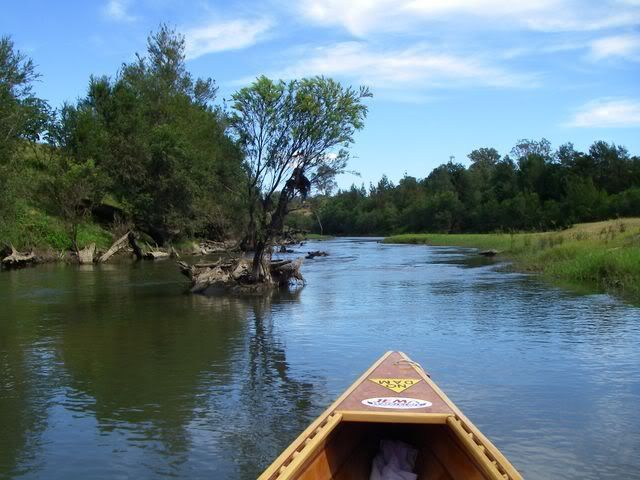 The darkest places in hell are reserved for those who maintain their neutrality in times of moral crisis. Dante Alighieri
Regards,
Mick

Legendary Member
Posts: 2723
Joined: Tue Oct 18, 2005 8:13 pm
Location: Fraser Coast, Qld
Kayak: JEMWATERCRAFT Southwind Pirogue and Laker
---
Thanks Hairymick and Raider for your replys. Thanks also for the photos they were great.

It seems like a very interesting river, it is something I would like to do myself sometime. I agree that a Canadian would be the best choice--its what I have used on trips I have done.
I will be talking to my mates next week, I hope that the info that you have given won't scare them off, because I know they are not all that experienced in doing that sort of trip.

I will keep you posted on their plans.
New Member
Posts: 19
Joined: Tue Jan 17, 2006 5:02 am
Location: Newcastle area
---
Thanks from me too.
I`ve only just got registered for this forum and was keen to read about the two blokes doing the same trip as me. Turned out I was reading about myself & a mate from NSW. (Small world aye!) Got the Kayaks from Coolum hire (Australis Iguana x 2) Also found Anaconda and Rosco`s great (Esp for weekend excursion.) Got a flight for my Newcastle mate for $29 & the Kayaks cost $320 for 7 days. Have hidden water along the way and researching 5 Historical pubs enroute. (left a motorbike at two of them in case of unplanned problems.) Turned out our trip coincides with a 150 year Anniversary with a publication available 22/3/09. Got a lot of Help from the "Save the Mary" supporters" and also Fraser Coast Kayak club. Leaving in 2 days and hope to make it to at least the first bridge after The Kenilworth Pub-Any further is a bonus. Off to buy a waterproof camera so I can get pics like Hairy Mick`s. Got a flight for my Newcastle mate for $29 & the Kayaks cost $320 for 7 days.
New Member
Posts: 1
Joined: Tue Feb 24, 2009 4:55 am
Kayak: Australia Iguanis
---
Hi Mick, where would you launch from if doing this "Gundiah to Tiaro" river trip? Do you have any GPS coordinates? Or bridge name?
Shane...
New Member
Posts: 1
Joined: Sat Mar 26, 2011 7:18 pm
Location: Gympie
Kayak: Hobie - Outback + Revolution
---
---
Who is online
Users browsing this forum: Yahoo [Bot] and 1 guest